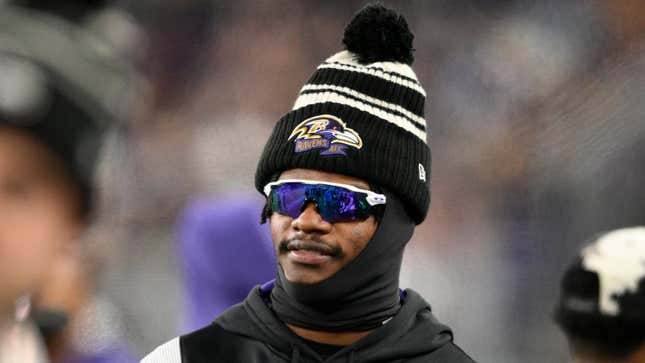 Lamar Jackson is the NFL's Shohei Ohtani. If this were Major League Baseball, he'd be demanding starting quarterback and starting veteran running back money, and some owner would oblige and airdrop whatever he demanded. Not only is the Baltimore Ravens' one-man show on offense, but he's also his own defense. Jackson's lack of representation coupled with his extremely online tendencies has led to him responding directly to any and all critics throughout his interminable push for a fully-guaranteed long-term contract. On Tuesday, Atlanta Falcons owner Arthur Blank expressed out loud what most NFL owners have been unwilling to say.
Blank, whom you may remember used to chauffeur Michael Vick around in a wheelchair on the old Georgia Dome recently opened up about why the Falcons have inexplicably ruled themselves out of the Lamar Jackson pursuit one year after going all in on Deshaun Watson.
"Looking at it objectively I'd say there's some concern over how long can he play his style of game," Blank explained to reporters. "Hopefully a long time ..., but he's missed five, six games each of the last two years. Each game counts a lot in our business."
Blank's seen the downside of an injury-prone scrambling quarterback, but that's not solely what Jackson is. He's just been more reliant on his legs because of the Ravens' talent deficit at receiver and Greg Roman's insistence on operating a power run scheme in heavy tight-end and fullback formations.
Once Blank's remarks got around to Jackson, the Ravens' All-Pro clap-back-quarterback subtweeted Blank via the same Twitter account he used to ruin John Harbaugh's Monday morning.
Jackson should be insulted by Blank's response. Imagine teams being so obstinately against dishing out fully-guaranteed contracts to a select few franchise pillars that they'd rather ride or die with Desmond Ridder or Sam Howell. I understand that rookie contracts are good bargains but that's only if your young quarterbacks are viable top-10 starters instead of just checkdown artists.
It's business...and it's personal
This entire Jackson contract ordeal has escalated into more personal territory than prior contentious NFL contract negotiations. Without a loudmouth in his corner like Drew Rosenhaus, Leigh Steinberg, or any of CAA or Jay Z's Roc Nation Sports henchmen, he's spraying comebacks in all directions.
No other quarterback is as quick to strike back online as Jackson is. There's no mystery about where he stands on his contract negotiations. His Twitter page is its own NFL Hard Knocks. When the NFL released a memo to all 32 teams airing out his business partner Ken Francis for negotiating on behalf of Jackson despite not being a certified agent, Jackson refuted their aspersions.
Unfortunately, this course of action doesn't appear to be making any progress. Outside of former teammates occasionally advocating for Jackson in ESPN studios, where are his advocates in the mainstream media on Get Up or First Take or the NFL Network? He's losing the PR war because he's stuck in the Twitter trenches taking on heavy artillery from the NFL and his own organization. In the meantime, Jackson is getting more agitated with each passing day he goes without a fully-guaranteed deal on par with Deshaun Watson's $230 million Browns contract.
Including Jim Irsay's bad cop reply pertaining to the exorbitant cost of trading for Jackson after Chris Ballard played the good cop, two owners of teams who should be chomping at the bit for Jackson's services have thrown cold water on the idea of extracting him from Baltimore.
The Ravens and Jackson are in a weird trial separation in which Jackson is trying to see other people, but striking out like a divorcée at the Ruby Tuesdays bar while the Ravens are miserable and equally as stubborn. This high-stakes brinkmanship can't continue forever without a resolution for Jackson.
Eventually, Jackson will have to agree to terms with someone. It may come down to his reps pushing for as much guaranteed money as he possibly can from another team without the fully-guaranteed unicorn he's been pushing for. If the fully-guaranteed contract isn't coming in 2023, it definitely won't in 2024 when he's a year older.
It shouldn't be with Baltimore or the Falcons though. If team owners like Blank are going to use his physicality as a drawback, he should find an organization that's going to prioritize protecting said body. Blank and head coach Arthur Smith are going nowhere slowly with how their roster is currently constructed. Ultimately, Blank ruling out the Falcons may have done Jackson a favor.
---
Follow DJ Dunson on Twitter: @cerebralsportex