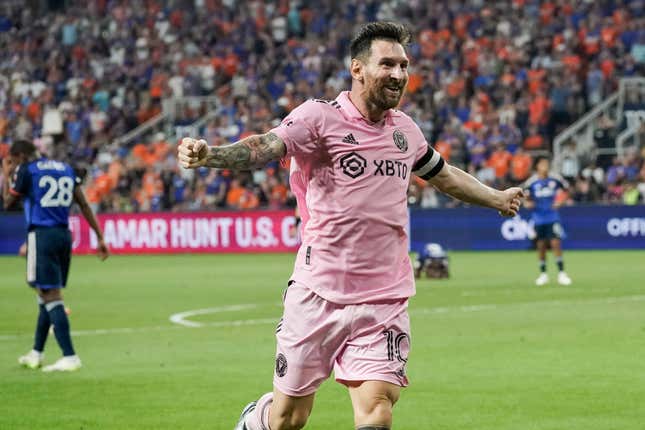 Lionel Messi's Major League Soccer debut is Saturday. Since signing for Inter Miami officially on July 15, he hasn't actually played in a game for the league he intended to play in. The Leagues Cup and US Open Cup have taken his focus. All of the dazzling moments that have taken over North America have yet to do a damn thing about the pink-clad soccer club's status as the last-place team in the Eastern Conference. Inter Miami's 18 points from 22 games is dead last in MLS. While it'll be easy to get out of the league's cellar, Messi's next job to get Inter Miami into the playoffs won't be as easy as the tournaments he's played in stateside so far.
Is Lionel Messi the best thing to happen to American soccer? | Agree to Disagree
I get it, Messi has dominated everywhere he's been and immediately elevated everyone around him. Bringing Jordi Alba and Sergio Busquets to South Beach with him was brilliant and helped fill the holes of a struggling team. It's so easy to see, but playing with a living legend, who is still playing at a world-renowned level, is one heck of a motivator. It's a one-of-a-kind jolt that Messi presented. Here's the grunt work of why he was brought in, however. It'd be wrong to doubt Messi and friends pulling off this feat. It's only 14 points with two games in hand to a playoff spot? That's not child's play for even Messi. There isn't much room for error. With the lack of relegation in MLS, he could pack it in and try again with a fresh slate in 2024, but something tells me that's not the Argentine legend's style.
Messi's latest impression of Merlin was Wednesday night, with Inter Miami's US Open Cup semifinal victory over FC Cincinnati. The pink men needed penalties to advance to Sept. 27's final against Houston, but they don't even make it beyond regulation without Messi, and he didn't score. Two assists to Leonardo Campana, including an equalizer in the 97th minute to send the match to extra time, was Messi's work of magic this time around. His 68th-minute assist was off a free kick from his preferred left foot and in second-half stoppage time, he dropped an absolutely gorgeous pass to six yards from goal, where all Campana had to do was make contact with the ball. Messi did all the leg work, even if his name isn't on the scoresheet.
At some point, the excuse of Messi evening out and not being a world beater will go away with how he's raised Miami's profile. The whining about it being an in-season tournament never made sense. Messi has now been Inter Miami's savior across two different competitions, and why on Earth would it stop now? The pieces Miami had before the legend's arrival have stepped up, most notably Robert Taylor and Campana. But again, having one of the greatest to ever lace up a pair of boots pass you the ball likely makes it easier to look like a million bucks when he's worth billions himself. He's giving away great moments like he's Oprah with Garrett Popcorn. 
Inter Miami has 11 games left in the regular season, and with this new-found form of brilliance with Messi pulling the strings, the worst-to-first mentality could be in play. Messi arrives in July, wins a trophy in August, gets Miami out of the dungeon in September, qualifies for the playoffs in October, and decides his team's postseason fate in November. And that's while still adjusting to life in America. Messi can do it, but the challenge of scraping through league play with the baggage of how Inter Miami was before him begins against the Red Bulls on Saturday. Messi overcoming the biggest test he'll face inside the MLS will either add to his legacy as one of the greatest of all-time, or be the one thing that he can't accomplish quickly in America. I'm going with the former.