Welcome to the Deadspin 25, a college football poll that strives to be more democratic and less useless than every other preseason poll. Leading up to the college football season kickoff, we will give you previews of the 25 teams that you, the readers, voted to be most worthy of writing about. Now, No. 16 Michigan State.

Compartmentalization is an inevitable part of work—sometimes, the world or your given industry or your company seems to be fucking up in every imaginable way, so all you can do is put your nose down and work. At least, that's what Spartan shitposters want.
Michigan State, in complete honesty, should have been razed to the ground by now. The administration, new and old, so monstrously failed its student body and athletes that it seems bizarre that the athletic department is allowed to chug along and rake in millions as though nothing happened. Investigators are still investigating; Larry Nassar is rotting in a jail cell, just like Jerry Sandusky; and Michigan State football and basketball will continue down their respective paths, hauling in millions for their coaches and athletic director and jack shit for their players, just like everyone else. Michigan State will tell you no NCAA rules were broken, which maybe should make you question just what the hell the NCAA's good for.
Athletic departments are fiefdoms and there are TV deals and coaching contracts to uphold and this is America and Larry Nassar will be a distant thought in another year. The institutional "healing," in the most insulting sense of the word, will begin eventually, once they find a president that isn't a big piece of shit. In the meantime, the Spartans will play football this year, will probably be very good, and the people of East Lansing will get to smile and cheer many times over this coming fall.
G/O Media may get a commission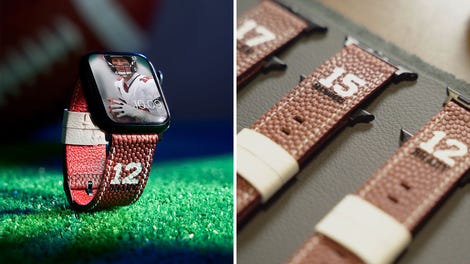 Official NFL PRODUCTS
Official NFL Apple Watch Bands
Michigan State bounced back last year after a 2016 season most people understood to be a rebuilding effort. The Spartans increased their win total from three to 10 over the course of a year and were pleasantly surprised by a new crop of rising offensive stars that should make this year's units one of the best in head coach Mark Dantonio's tenure.
The jump-started offense begins with the man under center. Quarterback Brian Lewerke did just fine in his redshirt sophomore season, completing 59.0 percent of his passes for 2,793 yards to go along with 20 scores and seven picks. It was his first full season as a starter and provided the Spartans coaches with relief that they wouldn't have to redo the quarterback competition over the offseason. Instead, they can focus on developing Lewerke and maybe, just maybe, rolling out an offense that takes some chances through the air.
All three of Michigan State's leading wideouts are back—Felton Davis III, the 2017 touchdowns leader, will join Darrell Stewart Jr. and Cody White as Lewerke's top targets yet again. Last year, the trio combined for 1,767 yards and 15 scores. They'll be without Hunter Rison, who transferred after his rookie season, and Donnie Corley, who was among the three Spartan football players kicked off the team last year after being charged in a sexual assault case. Corley was found guilty of a lesser charge after the trio took a plea deal.
Within the current bunch, Davis is being hyped as one of the Big Ten's premier pass-catchers, with a 6-foot-4 frame that comes in handy close to the goal line. Stewart is a bit smaller, making him a useful weapon out of both the slot and backfield, while White will be looking to improve upon a rookie year that ended with him as the top yards producer in Spartans freshman history. Tight end Matt Sokol had a quiet 2017, but should also be good for a couple scores this year.
The depth and talent of the passing game will go a long way for Michigan State, and it better, because the running game has some work to do.
The Spartans operate a run-first attack for the most part, and this year doesn't seem to be the one they make a massive change despite having the personnel to do so. The offensive line returns plenty of experience, having only to replace center Brian Allen, who is now with the L.A. Rams. For running back LJ Scott, entering his fourth and final season as a Spartan, this should be great news, especially considering last year wasn't his most consistent season.
He posted five fumbles and his yards per rush average (4.5) dipped below his freshman average (4.8), though that's also a product of Michigan State handing him the ball a career-high 201 times. Scott found the end zone nine times, including once through the passing game, which is fine but not particularly inspiring. This season, with no backups to split time with save for sophomore Connor Heyward, Scott should lead the Spartans in rushing for a fourth consecutive season. But if Michigan State is hoping to push to the front of the Big Ten, it's either going to need Scott to have more breakout games like he did against Minnesota and Maryland, or it's going to need to get comfortable with the idea of throwing the ball on second down.
The defense should be a rock for Sparty yet again. Defensive coordinator Mike Tressel is flying high after a season in which he cobbled together veterans and rookies to produce the 19th-best scoring defense in the nation, holding opponents to an average of 20.0 points per game. They finished with 23 takeaways and stymied opposing running backs to the tune of 3.4 yards per rush.
The Spartans lose just two regulars from last year's rotation, neither of which were stars. With all those young guns back and little offseason attrition, this year is somehow going to be even better.
Junior defensive end Kenny Willekes racked up 5.5 sacks and 14.5 tackles for loss and will pair with tackles Mike Panasiuk and Raequan Williams to fill out the line. This same group of players went a long way to ensure the team finished second in the nation in rushing defense a year ago—just three teams topped 100 yards on them, giving the Spartans an average of 95.3 rush yards allowed per game. Their 2018 goal should be to keep the rush defense the same while improving how often they get to the opposing quarterback—last year, the defense managed 28 sacks, which is fine, but the Spartans are looking to do better than 55th in the nation in that category. Luckily, that task won't fall squarely on the linemen.
As a sophomore, linebacker Joe Bachie forced two fumbles, defended five passes, and stopped 8.5 plays behind the line of scrimmage, all to go along with his 100 total tackles and team MVP honor. The junior is back this season and he should compile the best individual season of any Spartan linebacker in the past eight years. Bachie will be joined by third-year starter Andrew Dowell and a yet-to-be-named starter in what used to be Chris Frey's spot. Tyriq Thompson and Brandon Randle are options, as is Jon Reschke, who awkwardly returns as one of the most talented linebackers a year after getting the boot for sending the following text about one of his teammates:
"Honestly don't know who for sure but probably (teammate's name redacted) or another s****y f*****g (N-word) with no morals.
Great nose for talent you got there, Sparty.
A Guy To Know
For his first two years in East Lansing, Felton Davis III wasn't much of a noise-maker. He caught a couple passes as a rookie and then a dozen as a sophomore. His big frame was always tantilizing, but he just wasn't putting everything together like Michigan State coaches wanted him to; it didn't help that his first year seeing any real action was a 3-9 rebuild project.
Last year's breakout season alongside his new quarterback was a breath of fresh air for Michigan State fans—for at least the 2017 and 2018 seasons, they'd found their guy out wide. Davis played in all 11 games, averaging five catches per contest at 14.1 yards per catch. He turned it into nine touchdowns and established himself as the most dangerous receiver on the team. The expectations for this year aren't sky-high relative to other college football receivers, but for this run-happy program, breaking the 1,000-yard mark and bumping up those scoring numbers is entirely possible, as is Davis hearing his name called next April.
The Assistant Coach Tweet Of The Day
I fucking love in-house college football memes.
Can They Make They Playoff?
Naturally, Michigan State has just enough of a chance to make the playoff that it will likely drive this fanbase even madder. The Spartans have an easy non-conference schedule they should emerge from undefeated, which is good, because the first three Big Ten games are doozies. Luckily, Michigan State only has to go on the road for Maryland, Penn State, and Nebraska, as it drew home games for Northwestern, Michigan, and Ohio State. With Urban Meyer suddenly gone from the Buckeyes, it's unclear how this season is going to shake out at the top of the Big Ten—with a sure-fire defense and an offense with established vets at literally every position, it's hard to bet against Sparty.
Schedule
Aug. 31: Utah State
Sept. 8: @ Arizona State
Sept. 22: @ Indiana
Sept. 29: Central Michigan
Oct. 6: Northwestern
Oct. 13: @ Penn State
Oct. 20: Michigan
Oct. 27: Purdue
Nov. 3: @ Maryland
Nov. 10: Ohio State
Nov. 17: @ Nebraska
Nov. 24: Rutgers