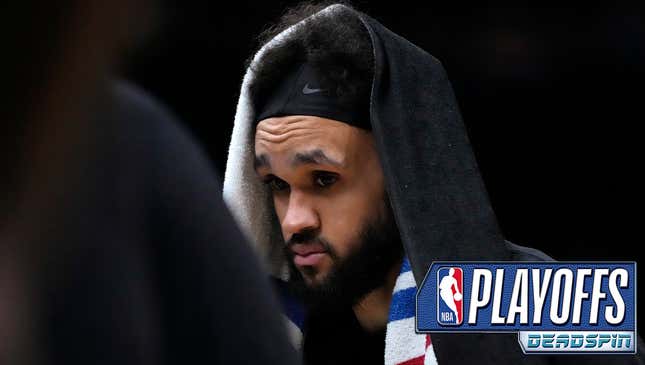 After a dramatic finish to Game 6 of the Eastern Conference Finals, Game 7 didn't nearly live up to the hype. But that only matters to the city of Boston. The Miami Heat stormed into Beantown, took care of business early, and completely silenced the crowd inside TD Garden by halftime. The Celtics might as well have laid down halfway through the first quarter, as it seemed they never really got started and showed little sense of urgency as they continued to chuck up bad shot after bad shot. The C's couldn't accomplish what the 2004 Red Sox did in digging their way out of an 0-3 hole and winning the series. Boston became the 151st NBA team to come up short.

A single-elimination NBA playoff would change history
You'd think a team who barely escaped Game 6 would come out fired up for Game 7 and leave it all on the court. But not this Boston squad. The Celtics almost looked defeated from the jump after Jayson Tatum rolled his ankle on the game's first play. That's not an excuse; it's an observation of how lackluster Boston's effort felt almost immediately. It felt like a game seven early on based on the fans' energy in the arena, but that quickly subsided when the Celtics began clanking threes as they missed their first 12 three-point attempts in this game. A team cannot often shoot that poorly to start a game and still manage to win.
No 'A' in effort
When Boston entered the locker room at halftime down 11 points, it felt like the end was near. Everyone expected them to make a run, and they did, but each time the home team got within striking range, the Heat hit another big shot to counter Boston's run and extend their lead. Miami's Caleb Martin was the culprit this night, hitting four threes, with a couple coming at crucial points in the game. Martin scored 26 points as he played sidekick to ECF MVP Jimmy Butler, who contributed 28 and led all scorers.
Boston simply failed to show up in the big moment once again. It happened last year in the NBA Finals and even at times during last year's ECF against the Heat. The Celtics want to "out talent" every team they face, and that strategy has failed them. Forget about seeding. Based on overall talent, the Celtics have a deeper roster than the Heat, top to bottom. Not many picked Miami to come out on top of this series entering game one. Then the Heat built and lost a three-game lead in the series, and we were right back to square one.
Only someone should have reminded the Celtics that everything was on the line Monday night. History, a second consecutive trip to the NBA Finals, their season, everything. As the game went on and the hole got deeper and deeper in game seven for the Celtics, you could feel the life being sucked out of TD Garden with every Butler or Martin dagger down the stretch. The camera panned through the stands to show a lot of unhappy Bostonians — including a distraught Bill Simmons — in the form of celebrities, athletes, regular fans, and former Celtic players.
There is an 'E' in embarrassing
Paul Pierce was shown in the fourth with a sour face on like he'd just taken down a family pack of Sour Patch Kids. Pierce had a look on his face similar to when Draymond Green clowned him when he was winding down his career in L.A. with the Clippers. That's how sickening the Celtics' performance was in Game 7. It gave a Celtics legend flashbacks to one of his most embarrassing moments on the court, but that wasn't nearly as bad as the beatdown Miami put on 'em Monday.
If the loss at home wasn't bad enough, Boston had to watch awards named after Celtic greats Bob Cousy and Larry Bird handed to the Heat on their home court. All Celtics players, present and past, should be thoroughly disgusted. It's one thing to lose, but to play the way the C's did in Game 7 is unacceptable.
All good things must end
Monday night may have, in fact, been the last time we see these Celtics as currently constructed. Jaylen Brown is now due for a contract extension and can sign a five-year deal worth close to $300 million. Then Tatum will be up for his extension after next year, which could be worth nearly $320 million. Both players were named to All-NBA teams this season which makes them supermax-eligible.
Trade talk has surrounded Brown the last couple of years, so it isn't inconceivable to think the Celtics could be moving on from the 26-year-old. It always seemed to be a matter of time before they split up the Tatum and Brown duo. They got six highly successful years out of them but failed to capture an NBA title.
After another disappointing end to the season, it might not be too far-fetched to wonder about first-year head coach Joe Mazzulla's standing with the team either. Mazzulla replaced Ime Udoka this season, and Boston continued where they left off last year but ultimately regressed by not getting back to the NBA Finals.