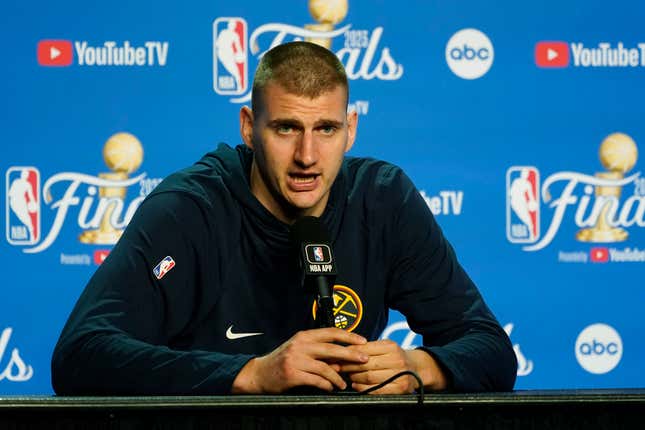 Nikola Jokić is on a mission. Of course, he's on a mission to win an NBA title, but he's also out to prove the doubters wrong. The Denver Nuggets are two games away from their first NBA championship after taking Game 3 on the road in Miami, 109-94. Jokić posted another 30-point, 20-rebound triple-double and is playing like the best player in the Association. Honestly, Joker has taken the spot that was once reserved for Luka Dončić.
Nikola Jokić is your 2023 NBA MVP... right?
It wasn't too long ago that Dončić was anointed as the next big thing in the NBA and was picked by multiple NBA analysts to start winning MVP awards. That was before Jokić swooped in to claim two of the last three league MVPs and came close to winning a third consecutive award this year.
Any debate between Joker and Luka shouldn't even be that close anymore. Dončić is great; no one would ever question that. But Luka's style doesn't always mesh well with every teammate. You could see that with Kyrie Irving and ask Kristaps Porzingis about his time in Dallas. Dončić is a player who dominates the ball, making it tough for those around him to get into the rhythm of a game. Luka is very much in the mold of James Harden. They are not the most athletic or fastest, and neither one wows you with their leaping ability. It feels like they're moving in slow motion at times, yet it's nearly impossible to stop them from getting to their spots on the court.
Dončić is still very early in his NBA career, so he's got time. But the way he was propped up after his first couple of years in the league, he should have at least one MVP or Finals appearance under his belt. At least, that's been the narrative by much of the national media, especially after Dallas' run to the Western Conference Finals last year.
Jokić has literally come out of nowhere to steal Luka's shine. Dončić was a top-three lottery pick who was viewed as the next "guy" in the NBA from day one. Joker was a second-round pick who needed some time to develop, similar to Giannis Antetokounmpo in Milwaukee. But even Giannis was selected 15th overall by the Bucks. Nobody ever predicted anything from Jokić, especially not what we've seen over the past few years.
A Denver Nuggets title, Finals MVP should ensure Jokic gets nod over Dirk, Giannis

Winning an NBA championship and bringing the Larry O'Brien trophy to Denver for the first time will place him among a group of all-time greats. Even more than that, Jokić is making his case for being the best European player the NBA has ever seen. Giannis is undoubtedly in that conversation along with Dirk Nowitzki. There's definitely an argument to be had for all three. Dirk was the best pure shooter of that group by far, but Jokić might be the most well-rounded offensively. Giannis is just a pure beast and the best defender of the three.
If Joker and the Nuggets finish off the Heat to win a title, and he claims the Finals MVP, it'll be hard to argue against Jokić as the best European player we've seen in the NBA. When you factor in overall skill, style of play, and accolades. Of course, his story in the association is far from done, just like Giannis. It's time we all stop sleeping on the Joker.