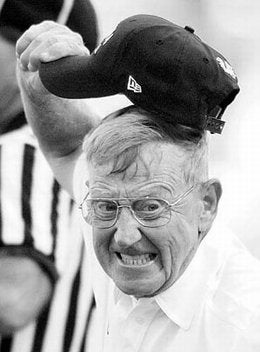 As you're surely aware of by now, Lou Holtz made the unfortunate mistake of comparing Adolf Hitler to Michigan coach Rich Rodriguez on the air last night. Rodriguez's non-existent mustache has yet to issue a statement. ESPN wisely (if inconsiderately) roused Mr. Holtz from the comfort of his bed this morning, and made him apologize in front of the entire world to Rodriguez and the folks at Michigan for his slip of the tongue. And in case you missed Gameday this morning, here's what Lou had to say for himself:
"Last night while trying to make a point about leadership, I made an unfortunate reference. It was a mistake and I sincerely apologize. At the time, I tried to clarify my remarks. I'm not sure I adequately did so."
"I appreciate your understanding."
Right. Anyhow, when Page 2 columnist Jemele Hill referenced Hitler in one of her columns a few months ago, her employer asked her to sit out a few plays. Will the same happen to Sweet Lou? Apparently not. According to Michael David Smith's sources in Bristol, ESPN will not suspend their lovably ancient college football analyst. Because old people can say stuff like this without dealing with any real consequences, you see. Holtz Issues an On-Air Apology [The Quad] ESPN Plans No Discipline for Holtz Hitler Comment [ProFootballTalk]