Welcome to the Deadspin 25, a college football poll that strives to be more democratic and less useless than every other preseason poll. Leading up to the college football season kickoff, we will give you previews of the 25 teams that you, the readers, voted to be most worthy of writing about. Now, No. 11 Penn State. 

Good people of college football, I hope you enjoyed all those 7-5 seasons three years back, because barring a(nother) scandal of Catholic proportions, Penn State isn't going anywhere anytime soon.
James Franklin is another prototypical top-flight college coach. He's fun in that he happily shows off his bruised ass at press conferences, demolishes piñatas in a bunny outfit, and has comedians visit State College to prank his team. He's abysmally stupid in that he openly admitted to judging his assistants by the looks of their spouses and, oh yeah, lied about having seen video of a rape when he was the coach at Vanderbilt during a major sexual assault scandal. I'm not sure how to calculate moral mathematics, but this seems about par for course with Power Five coaches sporting records above .500. If the Deadspin 25 still had its "Is your coach a dick?" feature, Franklin would be a solid yes. So, of course he's also a fantastic coach!
The Nittany Lions have amassed 22 wins in the past two seasons, both times narrowly missing out on their shot at the playoff and both times fielding teams that were undeniably fun as hell. Last year's Penn State squad finished in the top-10 of both scoring offenses and defenses and had a Heisman front-runner in its backfield. Franklin lost a few extremely important players, and his goal in the early going will be to get the replacements up to speed.
This starts with his staff. Offensive coordinator Joe Moorhead, the architect of the offenses that put up 37.6 points per game in 2016 and 41.1 points in 2017, is gone, having accepted the head coach position at Mississippi State. In his place, former quarterbacks and tight ends coach Ricky Rahne will try to keep things chugging along. It's an in-house hire, and Rahne's work the past four years with those two position groups will go a long way in bridging the gap in responsibilities.
G/O Media may get a commission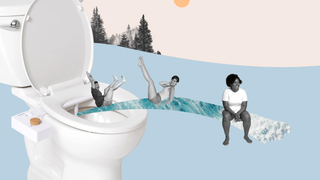 17% off
Tushy 3.0 Warm Water Spa Bidet Attachment
Now, let's get to the worst of the bad news: Superhuman Saquon Barkley has left State College to cash in on those oak-sized thighs in the NFL. He was, in a word, fucking unreal. An absolute workhorse, Barkley rushed over 200 times both in 2016 and 2017. While his total rushing yards dropped in his junior season, it was more a product of Penn State giving him the ball 60 fewer times than it did the year before—he still managed to increase his yards per rush to 5.9 and maintain his 2016 rate of 18 touchdowns. Including his breakout freshman year, Barkley ended his Penn State career with 3,843 yards, 51 total touchdowns, and an average of 5.7 yards per rush.
Replacing him in full will be impossible. But somebody has to step up and that somebody is Miles Sanders. The junior spent the last two years in Barkley's shadow, but in his brief spurts of relief duty, he at least made clear that Penn State had depth at the position. He's got the big burly shoulders you want from an every-down back, and he pairs it with fantastic lateral quickness and breakaway speed that helps him hit the edge on plays where it looks like the contain should have him. I can't say that Sanders is going to make Nittany Lions fans forget Barkley just yet, but he's a running back every team in the nation would love to have on their roster. The Penn State running game should be just fine.
And that's great news for Trace McSorley. The senior quarterback decided to return for one last shot at boosting his draft cred and, maybe, a shot at the playoff. This instantly makes Penn State a watchable offense and a playoff threat, because there just aren't that many third-year quarterbacks that log the kind of big-time experience of McSorley.
He'll be aided by the return of redshirt junior Juwan Johnson, who came back to lead the Nittany Lions at wideout. Despite having a solid overall season (54 catches, 701 yards, and one score) Johnson was a bit spotty last season. He'd go weeks without doing much more than catching a couple passes then randomly explode. Part of this is being part of a talented receiving corps that included one of the best tight ends in the nation, but part of it is on Johnson needing to force himself to the top of the rotation.
The Nittany Lions are going to be without all-time program receptions leader DaeSean Hamilton and all-everything tight end Mike Gesicki, who's now catching passes for the Miami Dolphins. This means having depth at this position will be a must for McScorely and the offense. Johnson will be at the top to start the 2018 season, but it'll be on teammates like senior DeAndre Thompkins, Brandon Polk, and redshirt freshman KJ Hamler to make him earn the spot. Hamler will be joined by fellow classmates Mac Hippenhammer and Cam Sullivan-Brown as the youth of the corps.
The defense appears to be in a much more secure state entering the 2018 season. The Nittany Lions lost guys from the 2017 squad, but they also spread the love around like crazy last year, meaning that while some veteran talent might be out the door, they've got nothing but experience to fill the gaps.
Both ends on the defensive line have been recently solidified. Shareef Millier and Shaka Toney will bookend the line as starters, as the pair of edge rushers bring 9.0 sacks in 2017 production with them. This comes after Ryan Bucholz announced his retirement due to a back issue and 2017 starter Torrence Brown retired due to a grisly knee injury suffered in Week 3 last year—the duo rounds out a list of five Penn State players that have retired due to health concerns in the past six weeks.
Cruising right past the inevitable decay that comes from this vicious sport, Penn State continues to be among the best producers of linebackers in the nation. Koa Farmer was initially the sole returning starter at linebacker after senior Manny Bowen got kicked off the team in December. But come the first week of August, there was Bowen in a Nittany Lions jersey. So, apparently, the Nittany Lions are getting two starters back here, as well as junior Cam Brown, who was solid as a reserve last season.
In the secondary, John Reid will start at corner—this year should be his big breakout season. Last year was also supposed to serve that purpose, but hemissed the entire season thanks to a nasty knee injury that happened in the spring. Given he's had nearly a year-and-a-half to get back to 100 percent, expect big things out of this one, as long as that knee holds up.
A Guy To Know
The Penn State career leader in passing touchdowns at 59 and counting, Trace McSorley returning to Penn State is good news for everyone outside of the Big Ten.
McSorley's had a great career, and his junior year was mostly in line with his skills. His yards per pass dipped by nearly a full yard (9.3 to 8.4) in 2017 and he threw 10 picks in 13 games while attempting 33 passes each outing, up from eight picks in 14 games in 2016. His touchdown throws largely maintained, going from 29 to 28.
For the entirety of his career, McSorley has remained on the periphery of any Heisman conversations, outshadowed either by his own running back or the opposing quarterback—in the 2016 Rose Bowl against USC, McSorley's heroics were done in by those of Sam Darnold and a late-game pick that ultimately cost the Nittany Lions the game. This year can be the one in which McSorley finally headlines the Nittany Lions on his own. Even if it isn't and he slips or Sanders explodes, McSorley has more than proven he's worth tuning in to watch on Saturdays.
The Assistant Coach Tweet Of The Day

Remember: The Grind is always watching.

Can They Make The Playoff?
Penn State can absolutely make the playoff with this roster and this coaching staff. The Nittany Lions have experienced depth at every position outside defensive tackle and I don't see any of the first-time starters on either side of the ball catastrophically underperforming. The schedule also works in their favor: Penn State gets Ohio State and Michigan State at home this year, meaning the road trip to Michigan should be the regular season's toughest test.
Schedule
Sept. 1: App State

Sept. 8: @ Pitt
Sept. 15: Kent State
Sept. 22: @ Illinois
Sept. 29: Ohio State
Oct. 13: Michigan State
Oct. 20: @ Indiana
Oct. 27: Iowa
Nov. 3: @ Michigan.
Nov. 10: Wisconsin
Nov. 17: @ Rutgers,
Nov. 24: Maryland