---
Now Even Soccer Goalies Are Making Impressive Trick Shot Videos | Lassi Hurskainen, the junior goalkeeper at D-I UNC-Ashville, made a nice highlight video. You may remember him as the Finnish keeper who scored on an 80-yard free kick last summer. (Emma Carmichael)
---
Worldwide Leader Teams Up With Larry the Cable Guy, And We All Lose | So, ESPN is launching some kind of 3D network. Their newest shill: Larry the Cable Guy, shot in cinema verité, with a weird Valentine's tribute attached. So many questions—is there no other contender for 'white Tyler Perry'? Is this what a multimillion-dollar PR operation buys? What will Bill Engvall cost Fox? [ESPN Media Zone] (Jack Dickey)
G/O Media may get a commission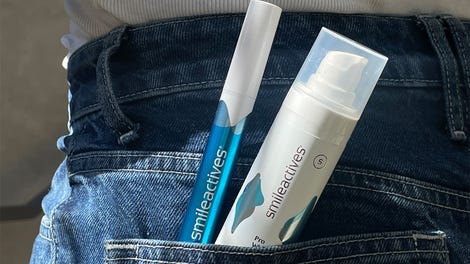 58% off
Whitening Powerhouse Pen & Gel Duo
---
Peter Forsberg Completes Two-Game Comeback For The Ages | Peter Forsberg, he of 885 career NHL points and a former winner of the Calder and Hart trophies, began his comeback by suiting up for the Colorado Avalanche on Friday night. It was his first NHL game since 2008, and Swedes were as excited as they could be. Unless Bjorn and Agnetha remarried. (Jack Dickey)
---
Tiger Woods Spits On The Green, Golf Gets All Offended | Disgusted with his Sunday collapse in Dubai, Tiger hocked up a loogie on the 12th green. That was all announcer Ewen Murray needed to label Woods "arrogant and petulant," and the European Tour fined him an undisclosed amount. (Barry Petchesky)
---
Treat Yourself To The Motherlode Of Historic Shot Videos | Remember Hoopism's on-demand visualization of every slam dunk contest attempt? Well, they've done it again, this time for 65 of the greatest shots in NBA history. More like Hoopgasm, am I right? [Hoopism] (Barry Petchesky)
---
Big Baby Davis Would Like To Have This Fast Break Back|Your morning roundup for Feb. 14, the day A.J. stole Philadelphia's heart forever. (Emma Carmichael)
---
Gilbert Arenas Talks About His "Bum" Of A Baby Mama And Dead Pet Sharks | In the wake of getting served with child-support papers at halftime of a Magic/Wizards game, Gilbert Arenas is rather perturbed about his baby mama Laura Govan's approach to public shaming. So says a source in the D.C. media, who was kind enough to share straight-from-the-mouth-of-Arenas thoughts on Govan — sister of "Basketball Wife" Gloria Govan — with us. (Brian Hickey)
---
Here's Video Of Wayne Rooney's Brilliant Goal For Manchester United On Saturday | The English Premier League match between first-place Manchester United and third-place Manchester City was tied at 1 in the 78th minute ... until cheeky boy Wayne Rooney fielded a pass from Nani roughly 10 yards from goal. His upper-corner, overhead-kick game-winner was the stuff of highlight legend. (Brian Hickey)
---
UConn Booster Goes Crawling Back To The Place That Loves His Money | University of Connecticut Board of Trustees Chairman Larry McHugh announced last night that the academic institution has reached detente with booster Robert G. Burton.
Burton is a 72-year-old printing-and-publishing magnate who, because he's contributed more than $7 million to the school, wanted more of a say in the process that saw Paul Pasqualoni hired to replace Randy Edsall as head football coach last month. (Brian Hickey)
---
Tips
Have something to share? Check out the tips forum or email us at tips@deadspin.com.