Your morning roundup for May 13, the day we wondered why our census form asked for penis size. Video via Sportsfeeder.
What we watched: The Bulls played their most complete game of the playoffs yesterday, and it says here they looked good enough to lose to the Heat in seven. You're going to hear a lot of talk like this in the coming days — sorry, Kevin Durant, but Derrick Rose is the new national unicorn — and I fear the Bulls likewise will be reduced to the Not Heat. That'd be too bad. It's been a while since we've seen a team quite like Chicago, a coach's wet dream that can also make even the most casual fan sit up a little. (The early-aughts Kings, maybe, had they not turned into the Easter Island moai on D.) All that style comes wrapped in all those fundamentals. Hubie Brown was so moved by something Derrick Rose did last night that I'm pretty sure he actually yipped, and the effect was a little like finding John Wooden doing the Hustle. (Tommy Craggs)
What we're watching: Sometimes, a sport's changing of the guard is sudden and obvious, like Tiger Woods' public fall from grace, or Rafael Nadal's breakthroughs on grass in the Grand Slams. But other times it sneaks up on everyone, allowing you to make totally shocking, totally accurate pronouncements like this one: Novak Djokovic is the best tennis player in the world. Yes, he's still ranked No. 2 but that's a product of tennis's backloaded rankings system. Djokovic has yet to lose a match in 2011, including three against the No. 1 Nadal (one of those wins coming on clay).
Djokovic faces fifth-ranked Robin Soderling in the quarterfinals in Rome today, with Andy Murray up next. After that? Likely another finals showdown with Nadal. I'd say that would make for a great final, but I don't think Djokovic is physically capable of losing right now. (Barry Petchesky)
Elsewhere
NFL sockpuppet denies the existence of sockpuppets: "Said NFL spokesman Greg Aiello in response, via e-mail: 'Regarding the statement from your recent post, 1) the goal of the clubs is not to shut down the league. It's to get a fair agreement with the players. 2) I have not posted any comments on your site and do not know of any club or league employees that have done so. If there is evidence otherwise, let me know. We most definitely have not tried as a league to influence comments on the site.'" [PFT]
G/O Media may get a commission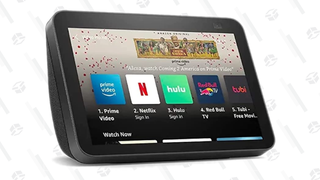 Redemption in May, or: our Mea Culpa: "The Sharks didn't blow it. Patrick Marleau didn't blow it. Joe Thornton didn't blow it. Antti Niemi didn't blow it. Dan Boyle didn't blow it. Joe Pavelski didn't blow it. Ryane Clowe didn't blow it. None of them blew it. But they sure used up a lot of oxygen getting there." [Mercury News]
"One Leg. ALL HEART! By Rick Reilly": "You see, all Danny wanted to do in life was play basketball. Think YOU love hoops? Well, Wild H-O-R-S-E-S couldn't drag Danny away from the game he loved! The boy would spend hours every day shooting free throws. Would stay out in the driveway all day until his mother chased him inside after dusk. He even came home during lunch every school day to practice his alley oop passes. You talk about LOBsessed! But there was something that made Danny different from all the other kids in school. You see, Danny was born with just one leg. YOU TALK ABOUT HOPS!" [KSK]
Ken Griffey Jr. is tickling Ichiro again: "Spotting Ichiro Suzuki with his back turned, Griffey wrapped him in his arms and tickled him until Suzuki showed proper deference." [NYT]
Atlanta Thrashers will still be Atlanta Thrashers: Says Bettman: "So people just make this stuff up, right? Where's the accountability from all the people who a month ago were saying that Phoenix was definitely going? Whatever is being written [about Atlanta] is being made up." [ESPN.com]
Locus of concern shifts from Tiger Woods's dick to his tibial plate: "'His swing is measurably worse in every way and is putting extra strain of his left knee,' said [biomechanics expert Bob Prichard], who has worked with 44 Olympic gold medalists and has studied the golf swing extensively. 'More than ever, he is pushing his hip toward the target, outside his left foot, and the stress is going into his left knee, actually pushing the femur down on to the tibial plate.'" [NYT]
Heat, stroked: "LeBron stayed there, sinking into the hardwood, photographers kept a respectful distance, and we waited for it to make sense-or at least strike bone. James and the Heat have gone from searing manifesto, to endless cipher, to finally an impenetrable mass. This wasn't a question of James gone spinning off into some emotional space that only Kobe Bryant or Larry Bird could make sense of. In that moment, LeBron was trying to tell us something." [GQ]
It's aint over: Yogi Berra celebrated his 86th birthday yesterday. We toast with a few quotes on aging from fellow wordsmith Satchel Paige. [NorthJersey.com]
Green Bay to be nice to Brett Favre again: "We are going to retire his number...I think it's probably going to be a few years. We want to make sure that he's really retired first. We made that mistake when he first retired after the 2007 season. [Press-Gazette]
They must think they're the Royals: Even though the Mets missed a tentative deadline for naming a minority owner, Fred Wilpon remains sanguine. He says that his family will have a new minority partner in a couple of months, and, when asked whether he was confident that he'd retain control, Wilpon replied, "Oh, very." [Newsday]
Shawn Kemp fathers a myth?: "I asked a couple of people that would definitely know about that and it sounds to me like Kemp made that up." [Daily Thunder]
Man who once did this has some thoughts on OKC's sportsmanship: "'For me, Oklahoma City did a little too much celebrating the last couple minutes,'" [Kevin] McHale said." [The Oklahoman]
Ron Springs, comatose no more: The way Everson Walls saw his former Cowboys teammate, "except for being in a coma, he's a healthy dude. … He hears you. He feels you." Springs went into a Dallas hospital for minor cyst-removal surgery on Oct. 12, 2007. He never woke up, but he didn't die until last night. That's three-and-a-half years in a coma. That felt like an eternity of peaceful confusion. He was 54. RIP. [Dallas Observer]
El Schnoz grande: Real Madrid's Marcelo claims Barcelona's Sergio Busquets got all racist and called him a "mono" (translation: monkey) during the first leg of their UEFA semifinals matchup. Busquets denies this. All he said was dude's got a big nose. UEFA will hear the case on Sunday. [Goal.com]
Recently On Deadspin
A few stories you might've missed.
Revelry: Meet the men who dropped $189,000 on a Vegas bar tab. This is their story. (Not really, but probably not far off.)
Fearmongering: Bartolo Colon went to a doctor. Many doctors prescribe steroids as part of their jobs. Steroids in baseball are bad. Ipso facto, time to grab the pitchforks and torches.
Insanity: Yesterday, this Scottish soccer coach was attacked by a fan. Today: a bullet in the mail, and completely separately, two men are arrested for sending a mailbomb. These are not rational things to do.