In a Monday article in the Hollywood Reporter by James Andrew Miller, a man who at all times knows what's going on at ESPN precisely an hour after anyone cares, former ESPN personality Jemele Hill officially announced her plans for the future. Seeing as the chickenshits who run her old shop have been made afraid of anything that could be characterized with the dreaded P-word—political, here defined as anything that isn't reflexively white and male in outlook—by disingenuous dum-dums trying to make a buck by pretending ESPN becomes more and more like Pravda every time it hires a black person to call highlights, it was only natural that Hill, our racist government's least favorite SportsCenter anchor, would decide that her talents would be better served elsewhere.

The highest-profile of Hill's new gigs is her job as a staff writer for the Atlantic, a fancy publication that hosts thinkfluencer events and runs stories about people who want to have sex with guns. As the Atlantic's editor-in-chief, Jeffrey Goldberg, put it, Hill's written work there is expected to be located at "the intersection of sports and race and politics." This is a fairly logical move; after all, before she was the celebrated talking head/tweeter she's primarily known as today, Hill was a real-deal journalist.
It's true that Hill's star only really began to shine as bright as it is now once she stepped away from the keyboard and into the camera's (and Twitter's) line of sight. In this moment of social and political turmoil, though, it makes a lot of sense for a magazine with the trappings of prestige and with-it-ness, but without much work worthy of those trappings, to hire a person who clearly has her finger on the pulse of what's going on and bet that it'll all come together on the page. (Aside from that rationale, with the Atlantic constantly stepping on rakes and getting smashed in the face with high-profile blunders in matters of race, gender, and representation, signing a name as big as Hill's could do a lot to help the magazine seem, or perhaps even be, more vital and less sclerotic than it is. Two birds, one stone.)
Still, one aspect of Hill's career plans as revealed in the Hollywood Reporter article was icky enough to bring the whole affair into question. The offending paragraphs don't appear until close to the bottom of THR's article:
The brave new world she has just begun to create for herself is shaping up to be multi-platform, and need we say, diverse. Hill is captivated by her development of a sports and politics show for LeBron James and Maverick Carter. Imagine the happy challenge of going from a show (SC6) where she had to worry about saying too much to a show where there will be endless enthusiasm, and a need, for her to say more. Sounds like a Jemelian dream. The show doesn't have a distributor yet, but Hill is no doubt hoping that if anyone has the clout to park this show someplace that can rival the ESPN platform, it will be LeBron James.
Hill has also started a production company with her good friend Kelley Carter and is preparing to sell a half-hour scripted series in collaboration with Gabrielle Union at Sony loosely based on her friendship of over 20 years with Carter.
G/O Media may get a commission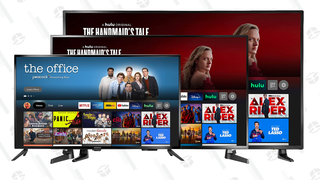 Up to 44% off
Prime Early Access - Insignia Fire TVs
So ... Hill is supposed to be covering the intersection of sports and race and politics for the Atlantic, while in her spare time she's pitching TV ideas to the biggest figure at that exact intersection? And she's also partnering with actress Gabrielle Union, who's married to one of James's best friends and fellow outspoken athlete, Dwyane Wade? The conflict of interest here is blinding, and doesn't seem to be the kind of thing that can be hand-waved away with a simple disclosure note at the bottom of an article.
Hopefully it's obvious why it would be bad for a journalist covering a specific beat to have financial ties to one of most powerful, most important, and richest figures on that beat; the work is necessarily compromised by the business relationship. (It would be even if Hill were secretly a robot and could completely partition the part of her brain that comes up with sports takes from the part that comes up with pitches for James's production company.) The Atlantic cannot publish Hill's articles about James, or James's rivals for the position of the most powerful figure in sports, or James-adjacent issues—i.e. much or even most of what's worth writing about on the beat Goldberg describes—and expect readers to trust that the work has the distance and skepticism necessary to produce valuable coverage.
The relationship here further has to be read in light of the fact that at this point in his career, James is in many ways less an athlete than an aspiring mogul with a sideline in basketball, and his various brand initiatives are mainly concerned with positioning him just so. (It's not like he joined the Lakers for their winning prospects.) As relatively tame as his takes may be, James makes it a point to weigh in on the news of the day, and given his slew of sports-media projects and properties—TV shows, documentaries, narrative films, one of those journalist-erasing media platforms for athletes—it would be hard to argue that James hasn't sought to become and succeeded in becoming the singular leader of the mainstream sports-and-politics lane. It would be equally hard to argue that Hill could cover James's forays and its ripple effects in this sphere without her relationship with James getting in the way.
Take Shut Up and Dribble, an upcoming Showtime documentary produced by SpringHill Entertainment, the company founded by James and his longtime friend and business partner Maverick Carter. It features Hill as narrator—a recent THR report quotes her extolling James's socio-political bona fides—and is expressly aimed at the intersection of race, politics, and sports. So is The Shop, the much-hyped HBO James show that purports to offer a candid glimpse into the minds of James and other high-profile figures about hot-button topics of the day. One of the key points of The Shop's debut episode was about how James had surpassed Michael Jordan's legacy—he was at one point likened to Muhammad Ali—as the iconic athlete of this generation due to his willingness to speak out on political issues. Hill is certainly a big fan of the show's concept, as demonstrated by this reverent tweet at Carter, who produced The Shop and her own Shut Up and Dribble and might soon be producing her yet unnamed sports and politics show; she is, in fact, a big fan of James. We've already seen her run the rule over his soul:
I reached out to Hill and Goldberg for comment about Hill's conflict of interest. Goldberg didn't respond at the time of this post's publication, but Hill did. (We'll update if Goldberg gets back to us.) Hill clarified the timeline: the director of Shut Up and Dribble, Gotham Chopra, first contacted her to participate in the doc as only a subject, while she was still working at ESPN. It wasn't until later—after she knew she would soon leave ESPN but before talks with the Atlantic began—that Chopra asked her to narrate the documentary. Hill gets paid a day rate for narrating the movie, and says she's "almost certain" that money doesn't come directly from James or his company.
Her relationship with Carter, James's business partner, runs deeper. "I've gotten to know Maverick Carter through mutual friends, social functions and in a professional capacity over the last year or so," she told me in an email. "During that time, he and I often exchanged ideas as part of 'talking shop.' He knew that I started a production company and I wanted his insight and perspective since he was involved in the same business." What started as fairly informal discussions about Hill's ideas for a sports and politics show have become more formal since she left ESPN. All of this started before she went to the Atlantic. Hill says the Atlantic knew about all of these relationships before hiring her, and "it was not considered problematic."
About the topic at hand—whether or not Hill believes it a conflict to be covering sports and politics while doing business with the biggest potential subject in the field—Hill's answer is both self-aware and a little disquieting in its unabashed and accurate diagnosis of the state of journalism:
You're asking the question — which is a fair one — about whether or not there's a conflict of interest because I'm developing a content relationship with LeBron and his production partners. My response is that this is a different media age, where developing content with athletes is more acceptable and content buyers see it as a unique way to partner credibility with authenticity. Hannah Storm has been able to do some brilliant work through her production company, in particular her documentary with/on Danica Patrick.

Of course, I'm aware that LeBron is a major voice in sports when it comes to political and social issues. My commentary on him has been fairly consistent, long before a relationship was ever established with him or his production partners. If he goes Kanye West, I'll be the first to call him out. But I've been in sports media for 21 years and I've always been up front with athletes, and most of them respect that. I'm not going to say something on television or write something about them that I wouldn't say to their face. LeBron and Maverick are savvy and experienced enough to understand what my job is.

LeBron had I have a friendly, mutual respect for one another. I wanted to do Shut Up and Dribble because I believed in the content. LeBron and his team chose me to narrate because they thought I added perspective and credibility.

It's an ongoing relationship, and if me or my bosses at The Atlantic feel like its reached the point where I'm too compromised, I have every confidence we will figure out a solution.
There's no reason to doubt Hill's sincerity here. She was long one of the more interesting and entertaining voices in ESPN's often cacophonous choir even before she came into mainstream prominence after coming into the White House's crosshairs for her anti-Trump tweets. Her growing beyond yukking it up with Skip Bayless over water-cooler sports takes into a sort of moguldom of her own makes all sorts of sense for her and is, in all, probably a net good. She seems cool and more often than not is on the right side of things. It's that very coolness and more-or-less rightness, though, that should make you wary of the impulse to give anyone the benefit of the doubt here. These traits of hers are real, and they are also tools to be deployed on behalf of the interests of her business partners. Where the interests of readers fit into the calculus is the question.
The Atlantic is an old publication that has not traditionally covered sports, and by entering into the ongoing culture war behind a personal enemy of Donald Trump who left ESPN essentially because of its fundamentally craven nature, the magazine is making a statement, or several statements. Some of those are easy to get behind; some, like the perhaps inadvertent one it is making about what a trivial field it believes sports is—it is impossible to imagine the Atlantic hiring a prominent tech writer who had a business relationship with Mark Zuckerberg to lead coverage in that area—are less so. Either way, sports continues to be treated as the "toy department," as crusty newspaper types used to call it. Ignoring a glaring conflict of interest like this one doesn't bode well for the idea of sports being appreciated and treated as everything the furors around Jemele Hill have proven them to be: a vital part of the real world, with real-world consequences, and worthy of the scrutiny that would be normally be brought to bear on anything that matters.