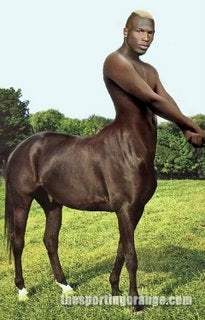 As the weekend rolls to a close - and with newfound, mind-eroding respect for both MJD and Will for their work in these here parts - I find myself completely immersed in thinking back over this weekend. Here are the winners that stand out for me:
5. Lewis Hamilton: Will make you like F1.
4. Yankee fans: You got your Rocket back.
3. Rafael Nadal: Holds serve on surface.
2. Chad Johnson: Beasts, DBs...it don't matter.
1. Rags to Riches: Hottest gal in sports!
(Also receiving votes: Haren, Cotto, Arenas.)
And, of course, where there are winners, there must be losers. A Top-5 countdown:
5. Tommy Morrison: MMA's disgrace.
4. Rest of Belmont field: Beat by a...girl!
3. John Daly: Mmm...close shave!
2. Andre Agassi: We know what "at-risk" means.
1. David Stern: Damn you, Tony Soprano!
(Also receiving votes: Wie, Federer, Vick)
Your additions and revisions for both lists accepted via Comments. But I hope, if nothing else, you walk away from this weekend with the image in your head of the love-child/love-foal of Chad Johnson and Rags to Riches winning a race against Amanda Beard while Tommy Morrison invites over David Stern to watch The Sopranos finale.
Still more to come today: "To Watch Tonight" and your DUAN-dedicated overnight kicker... stick around!
— D.S.