Your p.m. roundup for Sept. 26, the day we learned about spontaneous human combustion. Photo via Mocksession; H/T to Brad. Got any stories or photos for us? Tip your editors.
What we're watching (all times EDT, unless noted): MLB Network has Phillies-Braves or Red Sox-Orioles at 7. Versus has Rangers-Flyers in preseason NHL at 7. ESPN has Redskins-Cowboys in Monday Night Football at 8:30. And WGN has Cubs-Padres at 10.
G/O Media may get a commission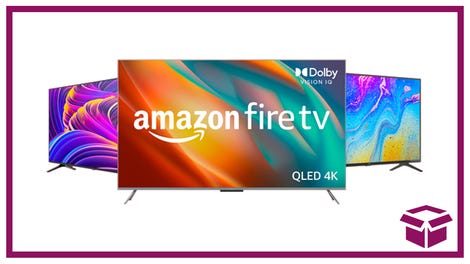 Ooh. stunning.
New Amazon Fire TVs
Read Me
Maybe we could all use a coach: "My serve had always been the best part of my game. But I listened. He had me pay attention to my feet as I served, and I gradually recognized that my legs weren't really underneath me when I swung my racquet up into the air. My right leg dragged a few inches behind my body, reducing my power. With a few minutes of tinkering, he'd added at least ten miles an hour to my serve. I was serving harder than I ever had in my life. Not long afterward, I watched Rafael Nadal play a tournament match on the Tennis Channel. The camera flashed to his coach, and the obvious struck me as interesting: even Rafael Nadal has a coach. Nearly every élite tennis player in the world does. Professional athletes use coaches to make sure they are as good as they can be. But doctors don't. I'd paid to have a kid just out of college look at my serve. So why did I find it inconceivable to pay someone to come into my operating room and coach me on my surgical technique?" [The New Yorker]
This Date In Deadspin History
Sept. 26, 2006: Madden Curse Soon To Attack Rest Of Humanity
Things You Might Have Missed Today
Some quick links to a few items we posted earlier:
• TMZ Report Brings John Lackey Close To Tears During Awkward Postgame Interview
• John Lackey And The Convenient Myth Of The Boston Spotlight
• Should Michael Vick Stop Protecting The Ball And Start Protecting Himself?
• Deadspin I-Team: Ron MacLean's Shirtless Beer Guitar
• Forget Boston, The Braves Are Going To Blow Their Playoff Spot
• Did Buffalo Outsmart Bill Belichick?
Elsewhere
The weekend weirdness of the Washington Nationals: "Weirdness, the message seems to be, pays off. And for the past three days, the Nats went all-out on the weirdness. This was Washington Wizards circa 2006 weirdness, and yet the Nats kept winning, taking two out of three from a Braves team fighting for its playoff life and drawing within two games of .500. Plus, it seems likely that both the weirdness and the winning will continue in 2012, when the Nats should have virtually all their key pieces back, plus a full year of Strasburg, plus older youngsters and an energized fan base. Plus more weirdness. You've likely seen most of this, but I felt the need to draw together the weekend's worth of weirdness." [DC Sports Bog]
A bad economy is good for dudes' chances to get laid: "Women are jumping into the sack faster and with fewer expectations about long-term commitments than ever, effectively discounting the 'price' of sex to a record low, according to social psychologists. More than 25% of young women report giving it up within the first week of dating. While researchers don't have a baseline to compare it to, interviews they have conducted lead them to believe this is higher than before, which increases the pressure on other women and changes the expectations of men." [New York Post]
Your Weird Estonian Commercial Interlude:

Phoenix Suns hire a Tweeter: "This seems like a really weird job to tell your parents about. 'Hey mom and dad, just got a new job. I'll be tweeting on the sidelines at Suns game. You know, Twitter. It's like this thing where you send little updates and everyone who follows you gets the updates at the same time. Well, I guess it's kind of like text messaging but not really. It's confusing a little, but it's a pretty big deal now. Yeah. Yeah. Yep, I'll be on TV. Yep, sending tweets and checking Twitter and stuff like that. Once you see it, you'll understand.' That conversation is bound to be a doozy. But just because it's confusing, that doesn't mean it's a bad idea. The Suns have been active in the Twittersphere for quite some time, with guys like Shaquille O'Neal, Steve Nash and Jared Dudley making names for themselves on the service, so it makes sense that they'd guide their broadcasts in to that realm eventually. You're starting to see Twitter handles show up on chyrons, tweets get discussed on highlight shows and MTV employing Twitter reporters for their award shows. It's going to be clunky at first, and probably useless, but eventually this will be a real thing that you see happening all the time." [The Basketball Jones]
This surprises whom, exactly? "Mid-American commissioner Jon Steinbrecher said Monday that NCAA rules say there's no route to reverse the outcome once the game is declared over. Toledo athletic director Mike O'Brien asked the Mid-American Conference to call for the Big East Conference to give Toledo the victory after a Big East official admitted that replay officials made a mistake in the Orange's 33-30 victory Saturday. Video shows that Syracuse missed a late extra point but the officials ruled it good. Replay officials allowed it to stand." [ESPN]
Merch: Managing editor Tom Scocca and contributing editor Drew Magary have both written books. You can buy Scocca's Beijing Welcomes You: Unveiling the Capital City of the Future here, and Magary's The Postmortal here. Now do it.
Send stories, photos, and anything else you might have to tips@deadspin.com.