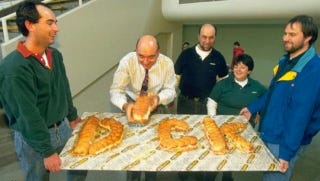 Your p.m. roundup for Oct. 3, the day we paid $160,000 for an island we can't even live on. Photo via SI Vault. Got any stories or photos for us? Tip your editors.

What we're watching (all times EDT, unless noted): Game 3 of Yankees-Tigers is on TBS at 8. And your Monday Night Football game, which begins at 8:30 on ESPN, is Colts-Bucs.
Read Me
New York mag's profile of Michael Lewis: "Lewis is often referred to as a business writer, and this is sort of true, in that his narratives usually focus on some kind of market, be it for bonds or baseball players. But he's a business writer only in the same way that Malcolm Gladwell is a business writer. What most interests him are people and how they behave. He tends to favor stories about mavericks—like the Tuohys, Beane, Whitney, and Steve Eisman, the eccentric short-seller star of The Big Short-smart people who identify gaps of logic and market inefficiencies, and take advantage of them. He can write about these kinds of people with such skill in part because he is one of them. At a time of peril for his industry, Lewis has managed to build what amounts to a personal empire of long-form journalism, with a Warren Buffett-like collection of brands and eye for the next big thing." [New York]
This Date In Deadspin History
Oct. 3, 2010: Did Dan Gilbert Call LeBron James An Asshole Or Not?
Things You Might Have Missed Today
Some quick links to a few items we posted earlier:
• A Philly Radio Guy Said He Would "Take A Bike From Philadelphia To San Francisco" If The Eagles Lost
• A Homemade Infographic Explaining How Badly Mark Sanchez Played Last Night
• Cris Collinsworth And Al Michaels Both Said The Word "Dong" On National Television Last Night
• Andy Roddick Gets A Question Andy Roddick Doesn't Like, Storms Out Of Press Conference
• Mark Sanchez, Joe Flacco, And The Franchise Quarterback Con
• The Arizona Cardinals Got Jobbed By An Old Rugby Rule
Elsewhere
Nothing systemic to see here: "Ohio State is in trouble with the NCAA again, this time because three Buckeyes players - including two who have already been sitting out for taking cash and free tattoos - accepted too much money for too little work in their summer jobs. Last year's leading rusher, Daniel Herron, and the top returning receiver, DeVier Posey, along with offensive lineman Marcus Hall will not be permitted to play when the Buckeyes play at No. 14 Nebraska on Saturday. Athletic Director Gene Smith insisted at a Monday afternoon news conference that there was no 'systemic' problem at Ohio State, which has admitted to having several players involved in different NCAA violations over the past 10 months." [AP]
Your Greek Potato Chip Commercial Interlude:

Big Ben, bad foot: "There still could be some other structural damage in the foot — possbily [sic] a sprain, according to a source with knowledge of the injury. That damage will not be fully determined until the swelling subsides. Roethlisberger's status for next Sunday's game against Tennessee at Heinz Field has yet to be determined." [Pittsburgh Post-Gazette]
Kobe to Italy?: "Kobe Bryant's representatives and Virtus Bologna are 'working very intensely' to bring the Los Angeles Lakers' star to Italy during the NBA lockout. Bologna president Claudio Sabatini had told The Associated Press on Friday he had reached a tentative deal with agent Rob Pelinka for a 10-game contract worth more than $3 million." [AP]
The Dodgers cram as many baseball analogies into one court filing as possible: "'Just as it would be a challenge to show that an umpire was acting in bad faith merely because he called a pitch high that other umpires would call a strike—but easier to make that showing if the same umpire called the same pitch a ball for one team and a strike for the other—[the Dodgers] should be entitled to present evidence of the Commissioner's dealings with other teams involving similar transactions to allow this Court to determine whether the Commissioner is using a different strike zone for [the Dodgers] than for other teams,' the filing read." [Los Angeles Times]
Denny McLain is an accidental fugitive no longer: "Criminal charges against McLain, who was accused in a scrap metal deal gone wrong in Louisiana, have been dismissed, according to his lawyer. 'This matter was a civil case. Unfortunately, the Saint Charles Parish Sherriff's Office took the drastic step of issuing an arrest warrant,' New Orleans-based criminal defense attorney Craig J. Mordock said. 'We're pleased the St. Charles District Attorney's Office, when presented with the facts, saw things differently and allowed Mr. McLain to resolve the matter with the other parties in lieu of a criminal prosecution.'" [Detroit Free Press]
Foul balls and legal risks: "These days, to cover their butts on the assumption of risk, most, if not all, leagues, teams and stadiums now place disclaimers and assumption of the risk statements on the back of each ticket. There are signs around the stadium, and announcements are made before and during games. Even with this precaution taken, having to go to court in the first place is a drain on time, energy and money. Teams try to further insulate themselves from lawsuits by taking precautions-like having ballgirls hand used balls to fans instead of lobbing them." [Mental Floss]
Merch: Managing editor Tom Scocca and contributing editor Drew Magary have both written books. You can buy Scocca's Beijing Welcomes You: Unveiling the Capital City of the Future here, and Magary's The Postmortal here. Now do it.
Send stories, photos, and anything else you might have to tips@deadspin.com.