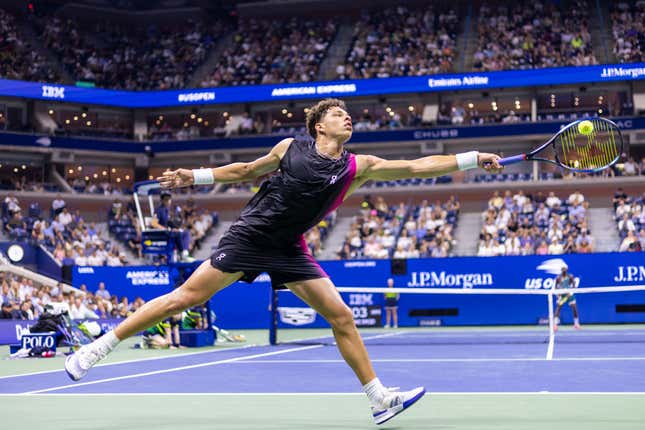 I went to the US Open last night. First time inside Arthur Ashe Stadium and on the grounds in Flushing. It was also my first professional tennis event since attending the semifinals of the 2003 Legg Mason Tennis Classic and watching Andre Agassi lose in a third-set tiebreaker. The US Open dangles between a nod to traditional tennis and upholding its reputation as the rowdiest major. There's the Michelin-starred European spot Crown Shy with a pop-up outside the stadium, and there have to be hundreds of booths selling those delicious $22 cocktails everywhere and, if you're not drinking, at least one while watching tennis, you're the delinquent.
Being a Tennis Gladiator like Roger Federer | Bear Grylls' Ultimate Sports Fantasy
Ben Shelton vs. Francis Tiafoe was the real draw
It was incredibly hot in the upper deck with people buying pizzas just to use the leftover greasy, empty plates as fans. Part of last night's mystique was schvitzing from every crevice. Even with a group of strangers buying individual, isolated tickets all over the Section I was sitting in — and them expecting the rest of us to play human Tetris so they could sit together — it was a fantastic experience. Oh yeah, there were two quarterfinal matches too. The night session's women's quarterfinal was Karolina Muchova dominating Sorana Cirstea, who didn't deserve the three individual games she won during the second set. The day's finale was much, much better though, and Ben Shelton defeated No. 10 seed Frances Tiafoe in four sets in an all-African American quarterfinal, a major accomplishment by itself in a stadium named for Ashe. Congratulations Ben! In your fifth major tournament and first major semifinal, you get Novak Djokovic, who's only won 23 majors, and would have more if he'd gotten vaccinated.
That's the deceiving thing. On the side of the bracket with three Americans and Djokovic vying for one spot in the finals, Taylor Fritz was never going to get the job done to get a domestic entry into the finals. He's just not good enough, despite his No. 9 world ranking. He's not elite at any particular thing compared to those ranked ahead of him. Neither Tiafoe nor Shelton would be favored against Djokovic, but Tiafoe plays more of a high-risk style. You burn out against Djokovic 19 times out of 20 doing that. Shelton's demeanor is better suited for a marathon match, as the 20-year-old doesn't have the professional experience to blitz Djokovic.
Ben Shelton moves on to face Novak Djokovic
Being the youngest American male in the US Open semifinals since 1992, oddly, comes with no pressure. Casual tennis fans have likely never heard of Shelton before this tournament. Casual sports fans have no idea who he is. Djokovic is the Thanos-like villain that has diehards on both sides, tuning it to watch furiously lose or be their savior and win. It'll be a first-time ever matchup between Djokovic and Shelton and more of a David vs. Goliath matchup then we usually see this deep into a major tournament. Shelton's ability deep into matches to ratchet up his serve speed is insane. And countering those off has been one weakness that's showed up for Djokovic in this tournament.
The next wave of American male tennis players appears to be staking their claim. Shelton, Tiafoe, Chris Eubanks, Tommy Paul, Sebastian Korda, and maybe even Fritz. But the spotlight is solely on Shelton for the first time for as long as he lasts in the US Open, which could be just three more sets. I'm betting against that though, as there was a certain swagger to his game on Tuesday that just screams "I won't roll over." And not to mention, this is the American major and those playing in front of their home country relish it. The lifelong goal was to play in Queens and Wimbledon, deep into those tournaments. And now Shelton's moment is here.