In a video released Tuesday by her attorney, Kendra Scott can be heard asking former San Francisco 49ers defensive end Ray McDonald why he's doing this and telling him to get away from her while she holds their infant son. Near the end, she screams "STOP, STOP!" at the top of her lungs as he chases her, before locking herself in the bathroom.
The video, which would later to be presented to a grand jury, was taken on May 25, 2015. McDonald was arrested for the incident, and charged with domestic violence and child endangerment. It was the fourth time he'd been accused of violence against women in a single year, following two police visits for alleged domestic violence against Scott and his having been named as a suspect in a sexual assault case brought by a different woman. Two days later, he would be arrested yet again.
The video and other information were released to the media Wednesday in advance of Scott's attorney Robin Yeamans's filing of "an emergency request" Thursday to halt McDonald's partial custody of their son. Susan Bassi, a representative for Yeamans, told Deadspin that McDonald is still allowed unsupervised and overnight custody of their son. An assistant for Elise Mitchell, McDonald's attorney, said she has no comment on McDonald's custody arrangement.
As part of the release, Scott's representatives posted a nine-page open letter she wrote to McDonald, a petition to demand the NFL do more to help victims of domestic violence, and a Youcaring page where the public can offer her financial assistance.

Between May 2014 and May 2015, it seemed like McDonald's name was in the news too frequently to track. While the details of his arrests and allegations have been thoroughly documented, here is a breakdown:
G/O Media may get a commission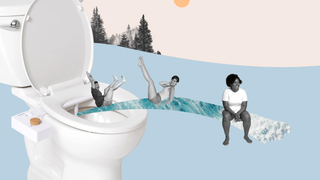 17% off
Tushy 3.0 Warm Water Spa Bidet Attachment
Kendra Scott called the police on McDonald in May and August of 2014 for allegedly attacking her. Following the August incident, during which Scott was pregnant, police noted "visible injuries" on Scott, and McDonald was arrested for felony domestic violence. Charges were not brought for either incident, and as is commonly the case in domestic violence cases involving athletes, the district attorney cited insufficient evidence and an uncooperative witness (Scott) in the decision. Later, it was revealed that a responding officer on August 31 moonlighted as security for the 49ers.
In December 2014, police investigated a case in which a woman says she was drunkenly raped by McDonald (and, later, his then-teammate Ahmad Brooks), at a party at McDonald's home. The 49ers then cut him from the team, with general manager Trent Baalke citing a "pattern of poor decision-making."
In March 2015, Scott and McDonald's son was born.
In May 2015, McDonald brought a defamation lawsuit against the woman who accused him of sexual assault, which was dismissed in June 2015 with prejudice.
In March 2015, McDonald was given another chance with the Chicago Bears, with team owner George McCaskey telling the media he was "impressed" by McDonald's sincerity and motivation to continue playing football.
Before McDonald could play a single snap for the Bears, he was arrested for the May 25, 2015 incident—the one in the video released by Scott's attorney. A restraining order was immediately issued against McDonald. He was released by the Bears the next day, the 26th.
On the 27th, he was arrested yet again for allegedly showing up at Scott's home two days after the domestic violence arrest, despite the restraining order against him.
---
As Scott begins recording the video, she is heard asking, "Ray, what are you doing?" in disbelief as his driver attempts to get him to leave. Despite the pleas by both Scott and the driver, McDonald appears to menace Scott before chasing her as she screams.

A statement of probable cause prepared by prosecutors says that after McDonald was arrested on site and told he was being booked on domestic violence, he said, "Look, that bitch made me mad, man. That bitch made me mad." The statement says McDonald "had a blood alcohol concentration of .12% four hours after the incident."
The video and other evidence were presented to a grand jury in August 2015 that was convened to consider the May 2015 domestic violence charges and restraining order violation against Scott, and the December 2014 rape allegation against another woman.
The grand jury chose not to indict McDonald on the domestic violence charge, though it did indict him on the violation of the restraining order and charged him with "rape of an intoxicated person." His then-teammate Ahmad Brooks—still an active player for the 49ers—was charged with misdemeanor sexual battery. Brooks's attorney Josh Cohen didn't immediately return a request for comment.
Jim Demertzis of the Santa Clara County DA's office explained to Deadspin that in the case of the domestic violence charge, "the grand jury felt there was not sufficient evidence to indict."
---
In Scott's nine-page open letter—written, Susan Bassi says, after reading the open letter written by the victim in the Brock Turner case—she describes the abuse she says McDonald subjected her to. Bassi says the letter was not delivered directly to McDonald, though it has now been circulated to the media.
In it, Scott describes an incident she says happened between her and McDonald in November 2014 in which she says McDonald came home drunk one night with a crowd of people, blasting music and waking up Scott as she was five months pregnant. She says McDonald said, "If you don't like it Kendra you can leave," then proceeded to talk with other women in front of her.
Scott says she "went into premature labor due to the stress and abuse you caused me and our unborn child. Leaking fluids. Bleeding. Asking for your help and all you had to say was 'Get out you're just a stupid bitch, I didn't want you or this baby anyways.'"
At that point, Scott says, she called her friend Nessa—a popular Hot 97 DJ who dates 49ers quarterback Colin Kaepernick—who picked her up and drove her to a hospital. Scott says the doctors halted her contractions and sent in a social worker to discuss the situation with her. In her letter, Scott says she "was scared they would take my son from me if I told them you hit me," and advised the social worker that she would be safe, as she planned to move in with her mother.
Nessa declined to comment for this story.
The letter concludes with Scott laying out her account of learning the police were investigating McDonald for rape and condemning him.
You are sickening. I couldn't stop thinking that maybe if I spoke up sooner this wouldn't have happened to this girl. You would have been locked away where you deserve to be. Where people like you go. And then you put the blame on me again. If I was there you wouldn't have had women over and slept with someone. Really Ray, if I was there? So it's my fault you raped someone. It's my fault she fell, hit her head got knocked out and you took her clothes off carried her up stairs and rape a drunk wounded girl? You will never learn if you don't take responsibility for your own actions. You asked the girl for consent and recorded it on your phone. You knew it was wrong that's why you did that. And after she said no you still did it you still took advantage of this woman. You are a women abuser period. A cowardly man. A monster.
---
There have been two crowdsource campaigns set up for Scott recently by her representatives. The first is a Change.org petition titled "Demand NFL Players Support Their Children & Domestic Violence Victims," in which Scott claims the NFL did not help protect her from McDonald.

The NFL assigned its Critical Response Team to assess the situation, which is tasked with helping victims of domestic violence. But it failed to help Kendra.

Kendra permanently broke off the engagement after Ray was arrested for the alleged rape of another woman, the NFL turned a cold shoulder to Kendra and their infant son, leaving her vulnerable to another attack.

Kendra and her infant son were forced to go on Medi-Cal and relied on friends and local restaurants for food.
(NFL spokesperson Brian McCarthy told Deadspin that the league's "investigative team tried unsuccessfully to speak to the woman in the fall of 2014 and again in 2015. They were told by counsel that she did not want to speak to them. In addition, contact information for both counseling and security personnel from the league office was sent to the woman.")
Page three of the NFL's Personal Conduct Policy reads:
In appropriate cases (for example, cases involving domestic violence or child abuse), the league will make available assistance to victims and families, as well as the employee. This assistance may include providing or direction to appropriate counseling, social and other services, clergy, medical professionals, and specialists in dealing with children and youth. These resources will be provided through specialized Critical Response Teams affiliated with the league office and with member clubs.
Susan Bassi also set up a YouCaring page to raise funds for Scott. In an email, Bassi says the money will be used to have an "alcohol expert testify in her custody case."
Bassi sets that cost at $4,600, and notes that the expert in question, Robin Press, "was the consultant for the 49ers on alcohol issues." Press, whose practice is located just 20 minutes from Levi's Stadium, says she is not a consultant for the 49ers directly, but is a consultant for the league, which refers players to her for evaluation and treatment of substance-abuse problems.
McDonald has now been out of football for a year and a half, and the charges he faces currently are for the alleged rape that took place at his house in December 2014, and the no contact order violation stemming from the May 2015 arrest. An assistant for McDonald's criminal defense attorney, John Halley, said he was out of office Friday, and did not respond to an email to his personal email account with detailed questions.

The charge for the alleged restraining order violation and the alleged rape are on the same indictment, but will be prosecuted separately. McDonald's next hearing is scheduled for January 6.