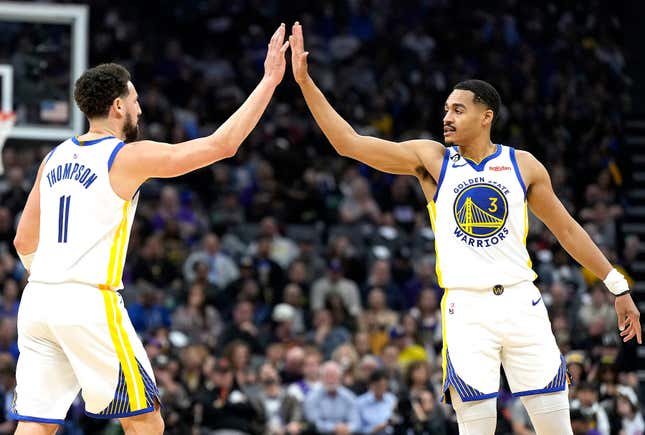 There was a lot of talk surrounding the Jordan Poole trade situation that saw him shipped away from the Golden State Warriors to the Washington Wizards. We've heard from almost everyone involved, directly or indirectly, in the altercation between Poole and Draymond Green, which many feel led to JP no longer residing in the Bay Area. As usual, we've heard from coaches, players, executives, and nearly everyone not named Klay Thompson. While appearing on an episode of "Podcast P with Paul George," which premiered on Monday, Thompson gave his thoughts on Poole and how he'll be remembered as a Warrior.

Jordan Poole ruins Golden State Warriors comeback and… we're being too hard on him | Keep it a Buck(et)
Thompson definitely showed love for Poole on the show, giving the former Warrior his flowers. We've heard so many mixed views on what happened, and down the stretch, when JP wasn't playing well in the postseason, there was mostly negativity floating around about Poole — that members of the team were "fed up" with Poole and that by the end of their run, nearly everyone was done with him.
It was even reported Thompson himself was allegedly fed up with Poole by the time the season wrapped up. His comments on George's show don't express that. Thompson may have felt that way in the middle of an NBA campaign where the Warriors struggled, in some respects, all year. Nearly everything that came out once things began to go off the rails was related to Jordan's "attitude."
Klay doesn't feel that way now, according to his conversation with PG and the crew. It's always interesting to hear reports and then, months later, hear them directly from the person's mouth and have those points be so wildly different in nature. This isn't meant to throw shade on the source reporting the story. It is a testament, however, to how feelings can change once someone is removed from the emotion of the moment.
Two things can undoubtedly be true: The Warriors sharpshooter and four-time champion probably has no ill will toward Poole, but could have also grown tired of what was happening during the season. While it might sound contradictory if the initial report was accurate of Thompson being "fed up" with Poole, his feeling different after time passes only means he's had the chance to sit back and honestly assess what went down. Klay is usually a man of few words unless it involves trash talk with opponents. No matter what happened at the end, it sounds like he was close with Poole at one point, like the rest of the team. Although things didn't end under the best circumstances, holding a grudge and moving forward isn't everybody's cup of tea.