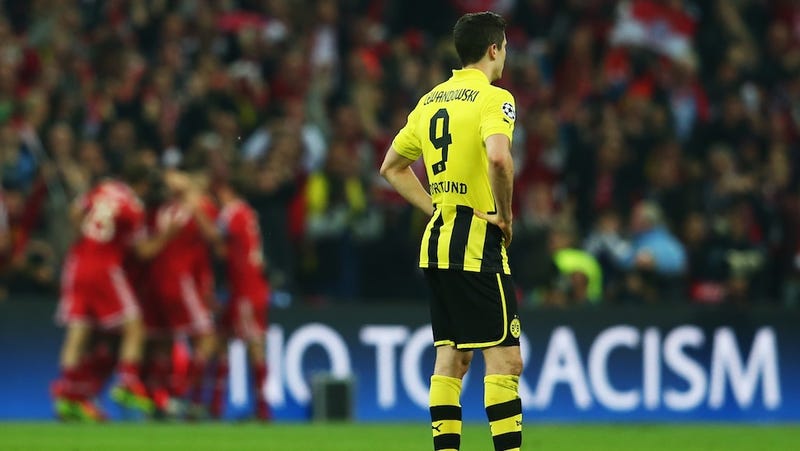 Last May, Borussia Dortmund lost to rivals FC Bayern in the Champions League final after finishing second by 25 points to Bayern in the German Bundesliga. Just days after, it was reported that Dortmund's Mario Götze and Robert Lewandowski—possibly the club's two best players—were headed to Bayern. Götze had already signed, and Lewandowski was set to be a welcoming present for new Bayern manager Pep Guardiola. In one of his final interviews for the club, the current Bayern manager, Jupp Heynckes, bragged about the coup, saying, "we won't have to wait very long for Lewandowski either."
Heading into the final month of the summer transfer window, though, Lewandowksi is still with Dortmund. On Saturday, Lewandowski even suited up for his club in a German Supercup victory to start the season against Bayern, 4-2. No one's putting too much stock into the victory, though. Once Bayern gel, they'll again be the best team in the world, and probably even better than they were last year, when they did things like this and this. Lewandowski wants to be a part of that. Lewandowski thought he'd be a part of that. But it looks like he won't. And this week, he spoke to press about his stalled move to Bayern, saying he felt Dortmund cheated him.
"I always give it my all," the forward said to newspapers in his native Poland. "That they keep me is not fair."
He later said, "If someone says something, he should keep his word. I'm not saying it's only about the transfer, but other things we have discussed with management and that has not materialized."
Lewandowski is upset because even though ownership told him he wouldn't be moving to Bayern this summer, he thought he'd find a way out anyway. He also said he'd been promised €6 million plus bonuses to see out the final year of his contract, but that he'd yet to be paid. Lewandowski's problem is that even though he's the reigning Bundesliga player of the year and at 24 years old, not even in his prime yet already one of the top players in the world, he has no control over his situation. He's coming to the same realization as other stars. They have no power.
Very few soccer players, no matter their celebrity or ability, have control over their destinations, especially once they've signed contracts for the team. The unions don't hold as much sway as, say, the NBPA. And because they're bought and sold for money, as opposed to traded for similar player value, they can be acquired at any time, since everyone has a price. But the decision's ultimately up to the owners, the guys signing the checks. If they don't want to sell, they don't have to.
Take another player, 24-year-old Tottenham savior Gareth Bale. Sky Sports reports that a couple of days ago, Real Madrid bid £85 million for his services, or about $130 million. It'd be a dream move for him, from a smaller club to the biggest club in the world. He wants to go, and Real Madrid's willing to pay about twice of what he's actually worth as a player. The deal's too good to pass up, one that could alter Tottenham's status in the Premier League and Europe. But, for now, Spurs aren't budging, because they don't want to. The only thing Bale can do is hope chairman Daniel Levy changes his mind.
Liverpool's best player, Luis Suárez, wouldn't mind a move, either. The 26-year-old is one of the top strikers in the world, entering his prime, and wants to play Champions League soccer. Domestic rivals Arsenal have put in bids of £40 million for the Uruguayan, but Reds owner John Henry is saying hell no. Suárez isn't leaving unless Liverpool receive a massive bid of at least £50 million. There were reports that Suárez is even already looking at schools in London, where Arsenal are located, but it looks more likely by the day that next season, he'll be in a Liverpool shirt.

Bale, Suárez, and Lewandowski are three of the most coveted, most popular players in the world—players that occupy the tier directly below that of Lionel Messi and Cristiano Ronaldo—but they have very few ways to effect change. They can't even hold out, as NFL players do every season, because in international soccer, there's no such thing as a holdout.
Two seasons, ago, striker Carlos Tevez found himself on an overly-stacked Manchester City team, which boasted forwards Sergio Agüero, Edin Džeko and Mario Balotelli. In a Champions League match against Bayern, he refused to come in the game as a sub in the second half. Afterwards, it was revealed he wanted to leave. There were even teams, like Paris Saint-Germain, AC Milan, and Inter, interested in him in the winter transfer window. Didn't matter. Instead of pressuring the team into a move, he was fined wages, denied his loyalty bonus, and sent to rot in the City reserves. This summer, going into the final year of his contract, Tevez was finally sold to Italian side Juventus.
The final year of a player's contract is the only time when they have anything approaching control over their situation. Clubs are businesses, and players are assets. Each one has monetary value, but once their contract runs out, they can move on for free. Players in the final year of their contract can move on to another club for free. So if a team purchases a star for £20 million, and then the star runs out his contract, they would lose a great player and the chance to recoup any of the original fee and wages sunk into the player.
It's why Arsenal gets bitched every single year. Arsenal's captain last summer was Robin van Persie, one of the top players in the world. He wanted to move to another team for more money and a chance at winning trophies; the Gunners hadn't won anything in seven years. So he refused to sign a new contract. Manchester United was able to buy van Persie for £24 million, about half of what he was worth as a player but also more than another club would've likely paid, since the alternative was to weather a dispirited season from the player, and have him walk away. The season before the van Persie debacle, Arsenal lost breakout midfielder Samir Nasri to Manchester City for a cheap £25 million going into his final year of the contract. Both van Persie and Nasri ended up where they wanted, saw their wages multiplied, and won the Premier League the following season.

Bale is signed until 2016. Suárez's contract doesn't expire until 2018.
The only real weapon they have with years remaining on their contracts is the press. Sports journalists abroad often act as part paparazzi, part shit-stirrers. If a player or his agent speak to the press about him moving, there's a chance it might prove enough of a nuisance to cause a rift in the locker room, and ownership could decide it'd be more worth it to sell a player than keep him around as a distraction. It doesn't always work, though. Christian Benteke, a Premier League forward who turned heads in his first season at Aston Villa last year, went to the press about moving to a bigger club after his team finished 15th. He even issued a formal transfer request with the club on July 8. Less than two weeks later, he signed a new contract with the team.
Lewandowski's a special case, because he's in the final year of his contract. That ostensibly gives him the leverage to force a move to Bayern, because he could walk away for nothing next year. Dortmund still aren't budging, though, and say they'd rather he walk for free in a year than give Bayern two of their most important parts in the same transfer window. If they get their way, though, they won't have to do either.
That's because owners' biggest advantage over players is the size of the sport itself. There are teams in England, Italy, Spain, France, Russia, and even Qatar that could buy Lewandowski and pay his wages. And he'd even be available for cheaper than if he had years left. Most of the best forwards who were available have already moved, and with weeks left in the transfer window, there aren't many quality options outside of Lewandowski, Suárez, and Manchester United's Wayne Rooney. It's a standoff for Lewandowski and Dortmund, but the team has the advantage. A panicked club from another league can come in for their star as the transfer window draws to a close, and he could be sold like the property he is. A team with enough status and offering enough wages could even coax him into signing for them instead of dream club Bayern. Dortmund would get weaker, but have money to invest in a replacement, and more importantly, their rivals Bayern wouldn't get stronger. And all Lewandowski can do is watch, and hope.
Photo Credit: Getty Images