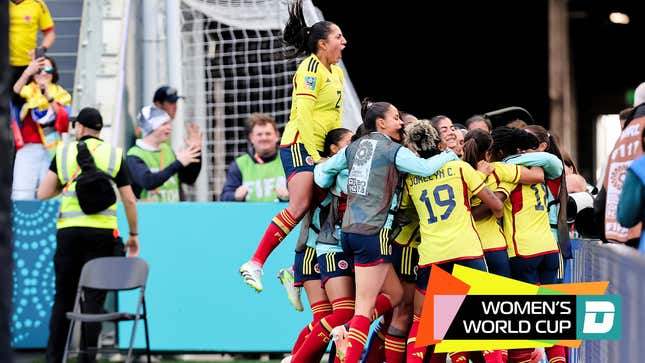 Group H was always going to be a battle between the teams not named Germany for who would advance alongside the European powerhouses. There were thoughts that Morocco could go from unknowns to the knockout rounds, then it lost 6-0 to Germany. The last two teams to play their first group stage game were Colombia and South Korea, who kicked off Tuesday's action in Australia and New Zealand. Consider my prediction of South Korea advancing to be close to kaput, because of how great the Colombians looked. The Asian qualifiers never looked like a team worthy of being on at the Women's World Cup. And a star was born.

Will the Saudi Basketball League poach NBA stars? | Agree to Disagree
After making a big move to Real Madrid earlier this year, 18-year-old Linda Caicedo scored Colombia's second goal of the game and looked menacing on the left side for the South Americans all game long. Her technical ability for being two years away from entering her third decade of life on this planet was spectacular. Caicedo was unafraid to take on four defenders and look toward goal from anywhere within 30 feet. While Catalina Usme is still the Colombian's best player, Caicedo will be key to whether her team will advance and could pull an upset in the knockout rounds.

Colombia would be in the group of teams that impressed the most compared to expectations in the first go-round of matches at the Women's World Cup. Add in Jamaica, who drew 0-0 with France and looked like the better team for stretches of the game, Japan, who clearly didn't have any dust on them despite an aging squad in its 5-0 win over Zambia, and Spain, dark horses no more to win the whole damn thing. Yes, the United States and Germany both barely broke a sweat in scoring nine combined goals and shutting out their opponents, but we expected greatness from arguably the best two teams in the tournament. Germany and Colombia play each other next early Sunday morning stateside in what looks to be one of the biggest matches of the group stage.

Casey Phair makes history
If the New Jersey-based South Korean forward appeared in either of her team's first two group-stage matches, Phair was going to make history as the youngest person to ever play in a World Cup. Her second-half substitute appearance made that reality at 16 years, and 26 days old, beating the old record by eight days. The record was previously held by Ifeanyi Chiejine, who was 16 years, and 34 days old for her first global appearance for Nigeria in 1999. On the men's side, the record belongs to Northern Ireland's Norman Whiteside, who was 17 years, and 40 days old when representing one part of the United Kingdom.
Group A is wide-open
There was one goal scored during the two matches of the second match day from Group A. It didn't come from the co-hosts or either European team in the quartet, who played to a scoreless draw. It was from Sarina Bolden of the Philippines. The Asian newcomers took down New Zealand 1-0, while Switzerland and Norway played for 90 minutes and nothing touched the back of the net. Group A is wide open heading into the final group-stage game for all involved. Norway looks the most prone at 1 point, while every other team in the group has won at least one game. The final games of Group A kick off simultaneously at 3 a.m. on Sunday on the East Coast.