On Tuesday night, WWE's new Facebook Watch series Mixed Match Challenge debuted to about 126,000 live viewers, with another million-plus later checking it out on demand. For all the rumblings about the WWE/Facebook deal's possible larger significance, fans were authentically excited to see it. The more laid-back wrestler promos gave fans hope that the new show might feel fresher than Raw and SmackDown do week to week. Hype and hyperbole are part of the bargain where new WWE programming is concerned, but the possibility that the promotion might really be doing something different here meant that there was a great deal of anticipation as to what the thing would actually look like.
The answer? It was absolutely stuffed with bullshit, which I mean as a compliment of the highest order.
"Bullshit" has a long history in this sport, and not just in the colloquial sense. It's a term for extra-physical shenanigans in a pro wrestling match, usually in the form of stalling and/or comedy. These days, at least in WWE, you're most likely to encounter bullshit in non-televised live events—"house shows," in more traditional wrestling parlance—where the wrestlers have more freedom to do what they want. A lot of it is confined to undercard matches designed to liven the crowd up, but it's not unusual for the main eventers to goof off when a TV camera isn't present. Sometimes, the wrestlers are just trying to entertain themselves. In the hands of truly great performers, though, it can be something bigger: A manipulation of the crowd that gets them as loud as they'd be during a conventionally "great" match without anything like the same level of physicality.
The debut of Mixed Match Challenge, by mixing that comedy into more of a live event-style WWE match, felt different from most on-screen WWE comedy. Most WWE comedy feels forced, and seems fairly obviously bolted-on. On Mixed Match Challenge, the bullshit felt more fully integrated into the whole; the wrestling-centric comedy was mixed into "serious" matches where it fit every performer's personality and the result felt strangely timeless, as if you could insert a given bout into any number of cards spanning several decades all over the world. Instead of forcing comedy into the match, the wrestlers' established personas were put into comedic situations that didn't erase suspension of disbelief. The crowd was into the result during the "serious" parts, and laughed when they were supposed to laugh.
The best explanation I've seen of the role of such bullshit or shenanigans or shtick or whatever you want to call it comes from veteran manager Jim Cornette, in a scrapbook about his years with the Midnight Express tag team. "In the big shows we would, of course, be serious, but in the small towns, we could still tear the house down without anybody getting hurt," he wrote in a chapter about the routines they developed. "With the thousands of matches we had and going 20 to 30 minutes every night, you needed a little break. Dennis [Condrey] used to say we could make them laugh, then make them mad because we made them quit laughing." The chapter outlines several different routines, from the good guys making one of the Midnight Express heels accidentally wrench his partner's arm, to Cornette challenging the referee to a boxing match, to teasing the idea of a Midnight Express breakup. Eventually, everything would settle back down into a more traditional wrestling match, but not before everyone had a few laughs.
G/O Media may get a commission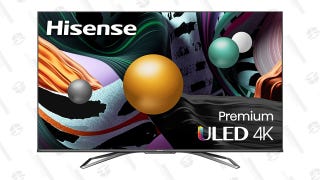 Save $350
Hisense ULED 65" Android 4K HDR Smart TV
Cornette and the Midnights cut their teeth in the Tennessee territory, which, as produced by wrestler Jerry Jarrett, had a considerably different creative philosophy from every other promotion in the United States. With a relatively small roster of wrestlers hitting most of the same towns every week, a lot of the major beats in each feud revolved around the heel getting humiliated. That way, you wouldn't risk burning out the fans on excessive violence, and an eventual bloodletting would signify the good guys' climactic triumph. WWE, while heavier on comedy than most older promotions were, doesn't really abide by that. They've largely abandoned a lot of the keys to traditional pro wrestling storytelling, with the comedy instead serving as either a way to entertain Vince McMahon or a hamfisted and invariably doomed attempt at bringing in non-wrestling fans.
"I was watching a Richard Pryor set on the sweet WWE jet one time just to kind of unwind and relax," the actor and former WWE writer Freddie Prinze Jr. relayed to podcaster Sam Roberts in 2016. "And we're flying back to White Plains and [Vince] literally is like, 'why don't you have on WrestleMania?' I'm like, 'Vince, I just want to laugh' [McMahon replied 'well, we have [comedy wrestler] Santino [Marella].' I'm like, 'great, I love Santino—that's not Richard Pryor!'" This is more of the same mindset that gave us a WWE executive expressing shock just last week that in-ring wrestling shows perform the best on WWE Network. The promotion still labors under the delusion that WWE produces an all-encompassing variety show that is masterful enough to get non-fans to tune in for the non-wrestling stuff.
Having said all that, the shenanigans in the first Mixed Match Challenge bout, with Finn Balor and Sasha Banks taking on Shinsuke Nakamura and Natalya, were absolutely tremendous, and managed the feat of actually being funny while never distracting from attempts to win the match. In addition to more overt playing to the crowd and some new, close-up camera angles, highlights included:
Natalya, who was exceptionally loud in this match, quickly tagging out after trash talking Banks, forcing the latter out of the match since mixed matches don't allow intergender wrestling.
Nakamura stepping in to catch a diving Banks when she tried to land on Natalya (only to get crossed up when Banks dove over him the second time).
Balor and Banks giving each other the "Two Sweet"/Wolfpack hand sign before dropkicking their opponents en route to the finish.
All of this was wrapped in a fun, basic, well-executed piece of pro wrestling; every aspect was integrated well. It was easy to digest as a 20 minute show, and felt different enough from WWE's other programming to count as a nice change of pace, especially sandwiched between the two hour SmackDown Live on USA Network and the half-hour 205 Live on WWE Network. It's hard to know if every week will be quite this good, but Mixed Match Challenge looks like some truly beautiful bullshit so far.

CORRECTION: This post originally said that 205 Live is an hour-long show. It was, but as of January 16 it is now a 30-minute show.
---
David Bixenspan is a freelance writer from Brooklyn, NY who co-hosts the Between The Sheets podcast every Monday at BetweenTheSheetsPod.com and everywhere else that podcasts are eavailable. You can follow him on Twitter at @davidbix and view his portfolio at Clippings.me/davidbix.