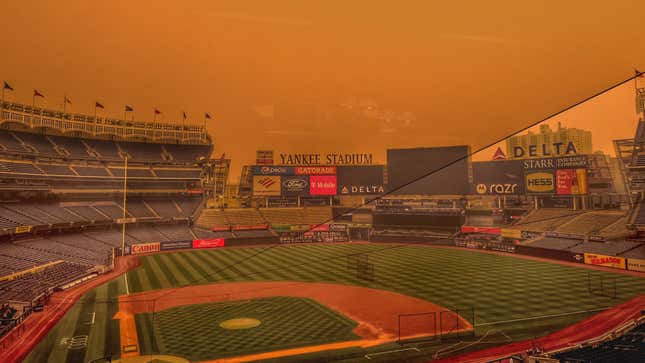 Walking outside in New York City is sketchy even with pristine air quality. There are homeless people everywhere, rats, and 99-cent slices of pizza littered on the streets. Plus, it's inevitable you run into a tourist that doesn't understand how much of the sidewalk they take up. I love living here but cleanliness isn't close to The Big Apple's biggest strength and I'm not sure any of the city's leadership can do shit about it. And on Tuesday, the sky turned an ugly shade of brown and the aroma smelled like a rotten campfire. Major League Baseball didn't take a single step to postpone the Yankees' home game against the White Sox, and the Bronx Bombers are prepping for their first series of the season against the rival Red Sox.
Yankees championship drought continues | Trash Talkin' Tuesday
---
Update: Wednesday's Yankees-White Sox game has been postponed and instead will be a doubleheader Thursday — with the air quality not supposed to be any better.

---
New York City topped the list of cities with the world's worst air pollution on Tuesday, with visibility only getting worse by midday Wednesday. The Mets are luckily playing in Atlanta on Wednesday and Thursday before beginning a weekend series in Pittsburgh. The unsettling nature of the air was caused by smoke from more than one hundred wildfires in Quebec with air quality not expected to improve until possibly the weekend. NYC's air-quality index was above 200 on Tuesday evening, which is considered "very unhealthy" according to IQair. The Yankees nor Major League Baseball has yet to comment on the situation with the sport's biggest rivalry set to take place in New York City's northernmost borough this weekend.

Before Boston comes to town, the Yankees still have two games against the White Sox to play in the conditions, with Chicago also defeating New York on Tuesday as the air quality plummeted. Several NYC school districts made announcements Wednesday that they would be canceling outdoor activities, but let's subject the White Sox, Yankees, and around 40,000 fans in the Bronx to these horrible conditions! At least some sort of statement saying that you're aware of the risks, but both teams want to play would be adequate. Instead, MLB posted content about the debuting Elly De La Cruz and Julio Rodriguez with a triton. As of midday Wednesday, New York City's was fourth-worst in the world at 166, deemed "unhealthy" while Toronto is in second at 176 with the Blue Jays hosting the Astros tonight. There's at least one correction north of the American border: Rogers Centre has a retractable roof. Yankee Stadium doesn't. Your move MLB.