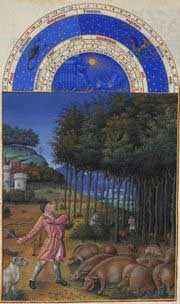 You might remember, toward the end of last year, when we reviewed each month of the past year leading up to New Years Day. We called it, imaginatively, "Year In Review." We continue today with November. We're digging through our archives pretty well, but if you think we should definitely feature something for the last year that we might overlook, email us at tips@deadspin.com with suggestions. And enjoy the trip down the lane of diminishing memory!
NOVEMBER HIGHLIGHTS
• November 6: Tennessee football players absolutely rule.
• November 8: Clinton Portis' wacky costumes returned for one week.
• November 13: The 2007 SHOTY begins. Yes, that's how long this thing has been going on.
• November 13: Aubrey Huff is Mr. Smooth on the Bubba The Love Sponge show.
• November 16: Barry Bonds was indicted.
• November 26: We had a little fun with Bill Conlin.
• November 27: Sean Taylor, R.I.P.
• November 30: Turns out, you can pee in a towel, and you can even do it in front of an arena full of people.