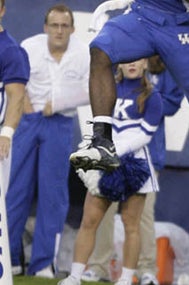 • GOOOO WILDCATS!!!
• Do not playl Madden with these people, ever.
• Official Drink Like A Champion garb.
• Aren't you glad we brought this video back into your lives?
• We just missed Pac Man Jones' shindig.
• Anything fun going on in Philadelphia this weekend?
• Your gambling days are just about over, Mister.
• Ron Zook, water skiing!
• Gilbert Arenas, we think you loco.
• We're very pleased to have Mr. Portis back with us.
• It is important to Mr. Lasorda that he be able to take everything you say at face value.