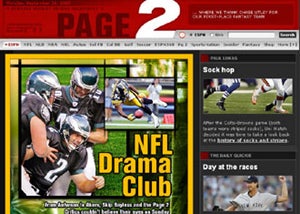 AJ Daulerio's Cultural Oddsmaker runs every Friday. Email him to tell him what you think.
With the upheaval at Page 2 in the last few months settling in a bit, it's nice to see they're moving forward and finally putting a staff together. One of the first lucky scribes is Orlando Sentinel columnist Jemele Hill, whose name has become synonymous with the phrase "what the mother of fuckball!" thanks to a reporter $200,000/yr. salary from The Leader that has made other journalists lose faith in oh, about everything.

Not me, however. I'm just thrilled for her. Fucking thrilled.

Anyway, surely in the next few months there will be more hires, lest they have a staff of Bill Simmons and a bunch of black people not named Jason Whitlock. Naturally it begs the question what direction are they gonna go to next? Will they pull out some name writers? Celebrities? Bloggers? It's an exciting time for unknowns as well — making a shitty living as a sportswriter, holding onto the notion that maybe, if they can stand out enough, write witty enough prose about Arena Football, be edgy enough, then the ducat-pooping piggy bank of Page 2 might just actually select them to fill out the roster.

Or, they may go another direction.

So, today I'm putting on my DJ Gallo hairpiece, fantasizing about the Sports Gal in pleather chaps making me waffles, and placing odds on the next round of Page 2 hires.

Duh-nuh-nuh. Nuh-nuh-nuh. Jump.