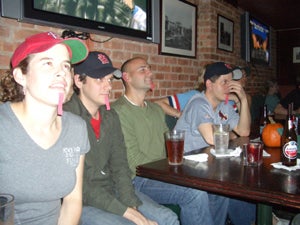 • Great job, guys! Have a (small) diet beverage!
• Lynn Swann, beer ponger.
• It's nice to have Free Darko around here, isn't it?
• We like us some Chris Carpenter.
• This is the only guy to ever take steroids in the NFL.
• And extremely difficult night to be a Tigers fan.
• Oh, so this is why people work for ESPN. Makes sense.
• COLD! And WET! That's how we like 'em!
• Look, a naked Eagle!
• What's whiter than white?
• This is the wrong way to run a marathon. This is the right way.
• CLONE SUPPAN!