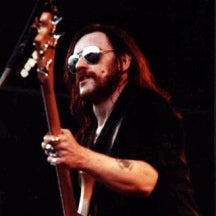 AJ Daulerio's Cultural Oddsmaker runs every Friday. Email him to let him know what you think.
Growing up, my Little League team was sponsored by either a local dry cleaning service, a pizzeria or a plump, mustached realtor. The best of that lot, obviously, was the pizzeria, Giuseppes, which would be very generous come playoff time and let us drain their soda fountain in trying to concoct the perfect Suicide — Sunkist, A&W and Welch's Grape ... Crazy!
This memory crawled into my head, obviously, after reading about Motorhead's sponsorship of a youth soccer team in England. I can't tell who's cooler — Motorhead or the coach who contacted them. Or perhaps the coach is savvy enough to realize that his team's jerseys will probably fetch about $200 a pop at vintage shops. Think about it — random intramural European youth soccer league jersey PLUS a Motorhead sponsorship logo on the back? Find me one greasy hipster who wouldn't drain their bank account to snag that shit.

I smell a trend. Heavy metal bands historically have had problems individualizing themselves through the years — I mean, remember when Ozzy and Judas Priest started teasing their hair with Aqua Net? Bad news — so it's not out of the question that more bands could possibly use this as a means of self-promotion. This week, I'm handicapping the bands that could follow suit. This is a dream come true for me.

So I'm putting on my Chuck Klosterman jersey, ironing on my Damage Inc. backpatch and calculating the odds on the next heavy metal bands to sponsor little kids' sports teams.