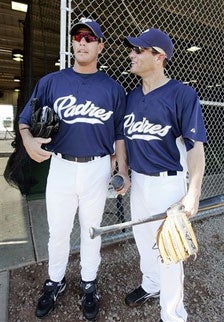 You might remember, from back at the beginning of the NFL season, when we previewed each team by having a writer we liked write about their favorite team.
Well, we're just more than a month away from the start of baseball — spring training is here! — so it's time to do the same thing in the baseball world. Every weekday until the start of the season, a different writer will preview his/her team. We asked a gaggle of writers, from the Web, from print, from books, to tell us, in as many or as little words as they need, Where Their Team Stands. This is not meant to be factual, or dispassionate, or even logical: We just asked them to riff on why they love their team so much, or what their team means to them, or whatever.
Today: The San Diego Padres. Your author is The Mighty MJD.
The Mighty MJD is the weekend editor of Deadspin, rocks it over at The Fanhouse and does his own thing at TheMightyMJD.com. His words are after the jump.
—————————-
They don't have the biggest payroll, and they don't have the most star-studded line-up, but you know what the Padres do have? The only mascot in sports who can club your ass with a bat, touch himself under his robe without anyone knowing it and then absolve himself of all sins back in his confessional. This is why I've always been drawn to the Padres.
The strategy for the Pads this year is the same as always: assemble a solid pitching staff, view offensive output as purely optional and just count on the Dodgers and Giants to screw the pooch. In recent years, this strategy has been enormously successful.
The Dodgers spent a bazillion dollars on Jason Schmidt and the Giants spent a bazillion and a half on Barry Zito, while the Padres biggest offseason move was to sign a 41-year-old pitcher who ranked 23rd in the NL last year in ERA. And still, San Diego will still probably have the best pitching staff in the division next year, provided that Jake Peavy bounces back a little bit. He hasn't been the same since he did this. Neither has his wife.