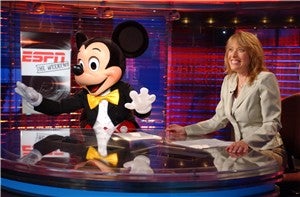 AJ Daulerio's Cultural Oddsmaker runs every Friday. Email him and let him know what you think.
It's prime time for Spring Break, and who deserves a wild weekend, meet-and-greet with some of its fans more than the staff of ESPN? That's right, Orlando, lock up your daughters: It's ESPN the Weekend. This is year four of the event that takes a bunch of current athletes, former athletes and ESPN personalities and unleashes them upon Disney's landscape. And, you, YOU, lucky fan and admirer of the WWL can interact with these people in a Magical Kingdom, within groping distance of all of these sports luminaries and dimly lit sports reporting personalities.
Notables from the sports world scheduled to appear include: Ben Roethlisberger, David Robinson, Drew Brees, Roger Clemens, Devin Hester, Roy Oswalt and, amazingly, former Dodgers manager Swirly Lasorda. Mangia!