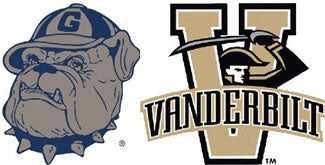 Georgetown Hoyas (29-7) vs. Vanderbilt Commodores (22-11)
When: 7:27 p.m. ET
Where: East Rutherford, N.J.
GEORGETOWN
1. Patrick Ewing Jr. will dunk on you. The kid teammates call "Trixie" (ask Wikipedia, not me) plays above the rim, as evidenced by his reverse and-one jam in the final minute of Georgetown's win over BC. Hoya heavy Ted Leonsis was hip to this as early as last week, as was anyone in attendance at Indiana Midnight Madness 2003.
2. Roy Hibbert is no Ostertag Przybilla. Last week I wrote "that NBADraft.net still has Greg Ostertag as Hibbert's player comparison, which is a crime to draftniks everywhere." Well, they've updated it since then, perhaps taking the 7'2", 278-lb. center's 17-and-12 vs. BC into account. The new comparison? Joel "The Vanilla Gorilla" Przybilla. No wonder DraftExpress.com is on the rise.

3. JT III has the starting lineup of a champ. Hibbert is one of the nation's best big men. Jeff Green is the Big East's Player of the Year. DaJuan Summers is a 6'8" freshman forward who the aforementioned NBADraft.net has going No. 10 overall in '08 (grain of salt). Guard Jonathan Wallace shoots 50 percent from the floor, 48 percent from three and 87 percent from the line, and backcourt mate Jessie Sapp averaged 14 points through the first two rounds of the Tournament. Hoya Saxa! — Jamie Mottram