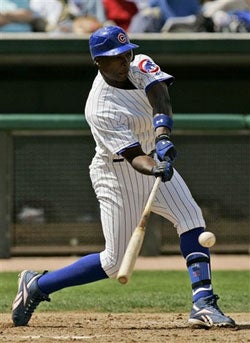 You might remember, from back at the beginning of the NFL season, when we previewed each team by having a writer we liked write about their favorite team.
Well, we're less than a week away from the start of baseball — spring training is here! — so it's time to do the same thing in the baseball world. Every weekday until the start of the season, a different writer will preview his/her team. We asked a gaggle of writers, from the Web, from print, from books, to tell us, in as many or as little words as they need, Where Their Team Stands. This is not meant to be factual, or dispassionate, or even logical: We just asked them to riff on why they love their team so much, or what their team means to them, or whatever.
Today: The Chicago Cubs. Your author is Greg Lindsay.
Greg Lindsay is a freelance writer based in Brooklyn and the author of the upcoming Aerotropolis. His words are after the jump.