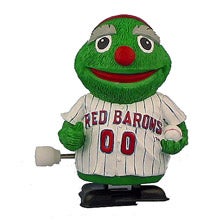 AJ Daulerio's Cultural Oddsmaker runs every Friday. Email him to let him know what you think.
Back in the feather-fluffing days of the San Diego Chicken, there might have been some allure to being a professional mascot. You're famous, ostensibly, because you make thousands of people happy. Many people are eager to have their photo taken with you. Children idolize you. Plus, you get to hang around sporting events all day, albeit dressed in a sweaty costume. But as mascots became more and more ubiquitous, with seemingly every team — from college, to pro, to semi-pro, to high school — having one, well, it has lost its luster a little bit. If you still have an overwhelming desire to be a mascot in this era, it's a telltale sign of emotional distress. If you want to be in the entertainment business — as many current mascots cop to doing — this seems like a very crooked path to take. But what do I know — maybe an ICM agent will be impressed by the way someone performs a somersault while wearing an oversized blue animal head.
Given the current state of mascots in the cultural landscape, it was not surprising at all to read the story about the Scranton/Wilkes-Barre Grump mascot performer getting arrested for trying to solicit sex from a teenage boy. Mascots getting arrested for lewd, inappropriate behavior is commonplace. And with the "Furry" phenomenon in full swing, it seems odd that most teams don't do deeper psychological profiling for all prospective mascots. Especially at the minor league level, which seems to always have its fair share of deviants dressed in animal costumes.