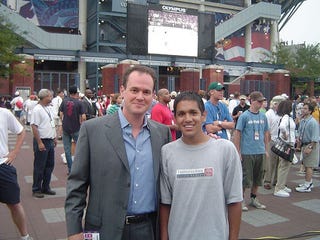 AJ Daulerio's Cultural Oddsmaker runs every Friday. Email him to let him know what you think.
Alycia Lane's been a godsend to Philadelphia newspapers starving for gossip. In the pantheon of 215 celebrity, sadly, athletes and newscasters are almost on equal footing. That's how it is here in sixth-borough land, so when Lane came here a few years ago from Miami — a monster free agent signing of the tits and glitz variety — there was considerable buzz around her. She had a semi-high profile relationship which ended in a quick divorce, and a sweeps week visit to Dr. Phil to hyperventilate about it. So when a tinderbox concerning Ms. Lane, semi-famous sportscaster Rich Eisen, her sending him random bikini pictures, and the semi-famous sportscaster's angry wife intercepting them in the email — and then relaying the whole mess to Page Six — her legend grows stronger. And, of course, there's a Bin Laden-like bounty out for those bikini photos. At this point, I wouldn't be surprised if What Would Tyler Durden Do becomes deputized by the National Press Corps to track them down.
But that's enough talk about Ms. Lane. Strangely enough, Rich Eisen is just background noise in this story, behind the phantom vacation photos and his pissed off wife, Suzy "You have a whore living in 2R!" Shuster. Today is Eisen's lucky day, as this column will, in effect, come to his defense for all of those still jaw-dropped by the notion that, yes, Rich Fucking Eisen is married and yet still has an incredibly attractive anchorwoman desperate to show off her Miami-shined body to him. Although he's no longer a member of the WWL, Deadspinners, more so than most other sports media ogglers, are well aware the power and swordsmanship that fraternity yields. And an incident like this only makes Eisen stock uptick a little more as this type of salacious publicity and notoriety annoints him with a gilded cock. Women now have to look at Rich Eisen differently than they did before; he's transformed from khaki-clad white guy jock sniffer to a mysterious, possibly reckless, lothario. I'll bet the day after all of this went down, he walked through the NFL Network offices and encountered a reception much like Eddie Murphy did in Boomerang the day after he banged Robin Givens.