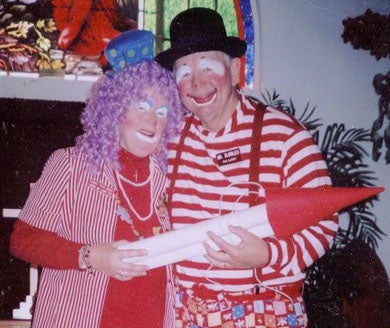 What's coming up in the world of minor league baseball ... we proudly give you Rick Chandler's Minor Enterprise!
Monday is the West Michigan Whitecaps' gigantic, festive Salute to Bubbles, and not a moment too soon. The night will feature two giant bubble machines that will produce more than a million bubbles per hour, and there will be special bubble giveaways before and during the game.
But the main attraction will be an appearance by the clown team of Mr. and Mrs. Bubbles, shown here preparing to drop their pants and fire a rocket, as they say. We've discovered that Mr. and Mrs. Bubbles, who have been entertaining Michigan residents for years with their delightful antics, are members of the Fellowship of Christian Magicians, who describe themselves on their Web site as follows:
We teach how to use the visual illustrations and develop talent for Gospel presentation using sleight of hand, optical illusion, ventriloquism, puppets, balloons, clowning, juggling, storytelling, and other visual arts as they develop for this one cause, visually promoting the Word of God.
The part of the Sermon on the Mount they don't tell you about:
JESUS: So how is school treating you, Billy?
VENTRILOQUIST DUMMY: Not so good. I have to walk 10 blocks to get there.
JESUS: When I was a kid, I didn't think anything of walking several miles to school.
VENTRILOQUIST DUMMY: Well I don't think too much of it either. (Laughter).
Other promotions, the leaders in the Worst Song in the World voting, and a woman who sees dead people, after the jump.
• Worst Music Of All Time Night. Tuesday, June 26. Long Beach Armada (Independent, Golden Baseball League). Though a winner will not be announced until game time, the race for the worst song of all time is coming down to the wire in Long Beach. Voting has been heavy for We Built This City by Jefferson Starship, Achy Breaky Heart by Billy Ray Cyrus, Mmmm Bop by Hanson, Gerrardo by Rico Suave, Ice Ice Baby by Vanilla Ice, Too Legit to Quit by MC Hammer and Party All the Time by Eddie Murphy, any of whom could win this thing. Get your vote in now!