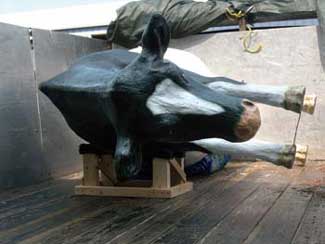 S
Sometimes, considering our own background, we have a hard time understanding some of these newfangled athlete malfeasances. This "Making It Rain" ... that didn't come up much in Mattoon (though the crops sure could have used it!)
But this sort of vandalism, this we can get behind.
Wisconsin hockey player Kyle Klubertanz and former hockey player Jeffrey Slinde were each assessed $200 fines yesterday for tipping over a cow last August in front of the Kohl Center, home of Badger hockey. Klubertanz and Slinde were on their way home from the campus bar scene at about 2 a.m. on Aug. 3 when they decided to tip over one of the more than 100 sculpted and decorated cows which graced various parts of Madison last summer as the Wisconsin CowParade.
We are disappointed it wasn't a real cow, but otherwise, we're absolutely with you in spirit, guys!
Wisconsin Hockey Player: "Because We Were Stupid" [Randball]