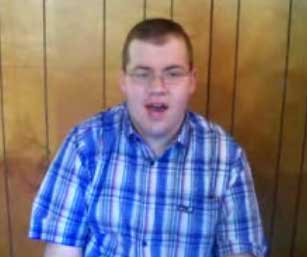 If you can't get enough of our YouTube Sports correspondent Kige Ramsey — we loved his reasoned, rational and thoughtful analysis on Kevin Durant's and Greg Oden's struggles in the summer league — it's your lucky day.
We obviously are addicted to the guy, and now someone has up and interviewed the guy. He's as enthralling in text as he is on video.
"Troy Aikman is my favorite athlete of all time, because he led the Cowboys who were my favorite team before the Titans came to Nashville. Another athlete that I liked a lot was Emmitt Smith because he was the best running back in the NFL at the time. As far as my favorite celebrity, Robin Williams is my favorite because he is so funny and hysterical. My least favorite players are Barry Bonds, because he seems to be a jerk and is always hostile when ever he is asked a question by the media. I also do not like Terrell Owens, he seems to be a greedy selfish person. The celebrities I do not like are Paris Hilton, who seems to be a spoiled rich kid, and Britney Spears, who should not have kids because she seems like she does not know how to raise them properly."
Totally! If you get a chance, please enjoy Kige's take on the iPhone, and be safe out there.
The Pacman Jonesin' Sit Down: Kige Ramsey [Packman Jonesin']
All You Could Possibly Need To Know About The NFC South [Deadspin]