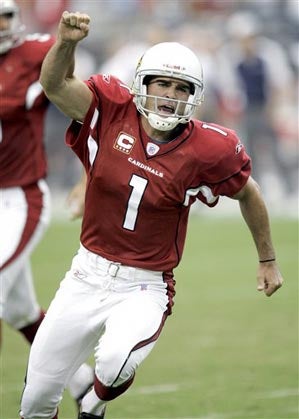 News and notes from Week 2 in the National Football League.
• We know a lot of people, when you are watching your team play while you are in enemy territory, who like to puff out their chests when that team wins. This seems dangerous, yes, but it's also not really our style. Our curse as a sports fan is that we experience far more heartbreak when our team loses than we experience joy when our team wins. To taunt someone whose team just lost to ours would appear against the natural order of matters, and, frankly, against rules of taste and manners. So when Neil Rackers hit his field goal to give the Buzzsaw a 23-20 victory over the Seahawks, we, surrounded by Seahawks fans who were already bored by the Mariners' loss at Safeco Field, kept our celebration to a muted, obscured fist pump and a muttered "fuck yeah!" under our breath. No need to push it. When your team finally catches a break, instead of being haunted by one, it's probably best to keep your happiness private, and not just because you might be beaten up if you don't.
• You know what we would really enjoy? Watching Derek Anderson become the next Drew Brees as Brady Quinn turns into Philip Rivers. (But, you know, more FABULOUS.) We don't think there's any question that yesterday was the best day in Browns 2.0 franchise history. We just enjoyed that the Bengals, late, had a chance to to win 53-51. That's like the score of a WNBA game.
• We're not going to lie to you: We have Texans fever. We only know one Texans fan, and yesterday, she was stuck covering the freaking Emmys. She deserved to be able to watch that game. By the way, David Carr had to be this close to going all Owen Wilson on the opposing sideline. Yeah, that worked out well.