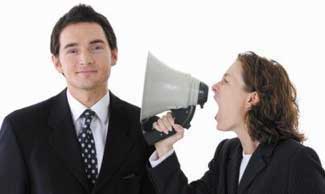 To keep the comments as fresh and outstanding as they've been up to this point, we've commissioned Commenting Guru Rob Iracane to write a bi-weekly Comment Ombudsman column. It runs every other week. This is that week.
Mr. Iracane is the guy who approves and deletes comments around here, and the fellow to whom you should address any comment account requests, and he will explore issues involved in commenting, what makes a great comment thread, what's working, what isn't, answer your questions, so on. We want the place to continue to be as much fun as it is every day, and it's not an execution thread like our friends at Gawker do. We like to be inclusive here, because if we're not, we'd be forced to rely on our own wit and knowledge, and that's a scary thought indeed.
So here's this week's column, about "outsourcing" and post length ... after the jump. Of course, don't be afraid to let him have it in the comments.
The concept of a "blog" is almost 10 years old. The word "weblog" was coined by noted Joycean scholar and all-around kook Jorn Barger in December 1997, when he began to log the web as he surfed. His site, Robot Wisdom Weblog, appears to be nothing more than a list of extremely short descriptions of a wide variety of links, but that notion created by Barger indirectly birthed the entire blogosphere. Ten years later, blogs have blown up enough that people actually make full-time careers out of blogging, and sometimes, they even publish longer pieces written by other brilliant people.
Our fearless editor Will Leitch is one of those full-time sports bloggers; he, along with associate editor Rick Chandler regale us with their hilarious takes on news stories, gossipy items and embedded viral videos five days a week, eight 10 hours a day. The least that we, as commenters, can do is to let these guys use their extensive "connections" in the media to bring in some fantastic writers, some on a regular basis, to entertain and educate us with extended, think-y features. Yes, sometimes these guest bloggers shit the bed in a historically painful way. Most of the time, however, we can truly be rewarded by reading the entire goddamned blog post before submitting a careless and unfunny "Wah, wah this is too long!" or "Wah, wah Will is outsourcing Deadspin!" comment.