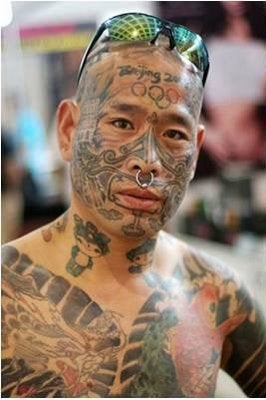 So this is the country that will supposedly be the world's major superpower in 20 years? I have my doubts, considering that this guy covered himself with Chinese Olympic tattoos and didn't allow for any space for advertising. Oh wait, I think I see an ad for Frank TV. Never mind.
Wouldn't it be funny if one of those Olympic mascots on his neck turns out to be gay?
We assume he spell-checked all of this before leaving the shop.
When The Olympic Spirit Goes Way Too Far [100 Percent Injury Rate]
Beijing Olympics 2008 Tattoos Inspired By Prison Break [Beijing Olympics Fan]