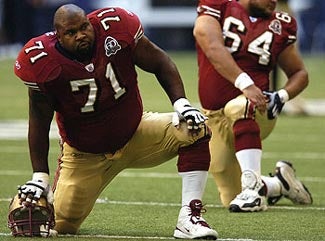 Big Daddy Drew's Thursday Afternoon NFL Dick Joke Jamboroo previews the upcoming weekend of the NFL every, well, every Thursday afternoon.
Larry Allen plays for the 49ers these days. And even though he's on the downside of his career, toiling away for an absolutely putrid team, Allen still holds the title of the NFL's strongest man. And this isn't some anecdotal bullshit. He won the NFL's Strongest Man competition at the Pro Bowl last year by benching 225 lbs. 43 times. In other words, it was a good toning exercise for him.
Allen has benched 700 pounds before, and he has a partial squat of 900 lbs. What's a partial squat? That's when your wrap up your knees up real tight, lay the bar across your shoulders and begin to squat down only to realize you're squatting 900 fucking pounds. It's not a full squat. But who gives a shit? It's still a pretty spectacular achievement — one that, frankly, I am not able to comprehend with my tiny little brain.
Sometimes we forget just how fucking physically awesome some of these guys are. I remember when being able to bench 135 lbs. in high school was a big deal. As you probably know, a barbell with 135 lbs. is one that has a 45 lb. plate (the biggest plate) on each side. As a guy, you HAVE to be able to do this, because when you're bench-pressing with just a 35 lb. plate or, God forbid, a 25 lb. plate on either side of the barbell, you look like a goddamn pussy. You feel like a goddamn pussy. And you ARE a goddamn pussy. Worst of all, you have to spend weeks and weeks looking like said pussy if you want to be able to the bench the weight that makes you look like a semi-functional male human being that can kill bugs and have sex with other people.
That's why we men tend to gravitate towards the weightlifting exercises that allow us to use the most weight. I know it's better for you to use less weight and go for more reps. But fuck that. The whole point of lifting weights is to LOOK strong. And you can't do that by doing 20 lbs. eighty times on the preacher curl. That's gay. That's why I'm a big fan of shrugs. You just load that barbell up with a shitload of plates, pick it up (off the rack!), lift your shoulders two inches, and then put it back down again. One set, of one. Easy AND impressive. That's working out with your head!
I'm also a big fan of the leg press. You, of course, remember our good friend Pat Robertson, who claimed he could leg press over 2,000 pounds. Well, of course Pat can leg press 2,000 pounds. EVERYONE can. I think the sled on the leg press machine is motorized, for God's sake. Load it up, extend your legs, bend them to 172 degrees (don't forget to let out an accidental fart!) and repeat. That is some strong-looking activity right there.