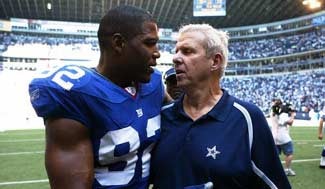 Big Daddy Drew's Thursday Afternoon NFL Dick Joke Jamboroo previews the upcoming weekend of the NFL every, well, every Thursday afternoon.
Over Thanksgiving weekend, I watched two college games that went into overtime. One was the LSU-Arkansas game. The other was the Tennessee-Kentucky game. There was nothing about either of these games that was not beyond fucking awesome. At one point, I totally thought LSU was gonna win. Then I totally thought Arkansas was gonna win. And then I went BACK to thinking LSU was gonna win. And so on. I was riveted. And I don't even give a shit about Louisiana, Arkansas, Tennessee or Kentucky. Those are retard states. If an asteroid destroyed all of them, I'm pretty sure I wouldn't be sad, especially if Emeril Legasse were killed in the blast.
Now, I know this space is usually reserved for cheap, gratuitous dick jokes and flagrant displays of my music and film taste. And rest assured, it still is. Like this one time I was masturbating and I cleaned it up with Charmin, only Charmin's a very delicate tissue, so little bits of it stuck to my cock, then I had to spend a solid five minutes trying to get the residual pilled Charmin off my cock, only to end up turned on again. We've still got plenty of time for things of that nature. But the Jamboroo is also a haven for new and crazy ideas as well. Who called for the abolition of the PAT? I did. Suck on that, Football Outsiders.