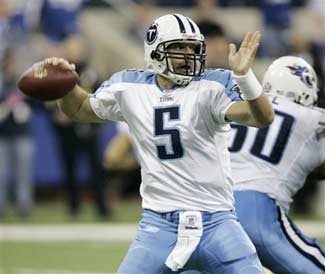 Tiny tidbits and news niblets from the final week of the NFL season ...
• It sure is nice seeing Kerry Collins back, isn't it? Remember when Kerry Collins was a big controversial figure? He got DUIs before it was cool to get DUIs. Collins has been around longer than you realize; he actually took over for Frank Reich, for crying out loud. Vince Young should be fine for the playoff game next week, which is kind of a shame; it might have been fun to see Collins' goofy arm hitch in the playoffs one more time. Not that we have much hope for the Titans anyway; when Kerry Collins is your savior, not even facing Norv Turner will be enough to keep you around long.
• Honestly, it really has been the worst sports year for Cleveland. It's downright wrong; that city has been cursed with just enough hope to make the disappointments really hurt. But hey, look who got some minutes yesterday!