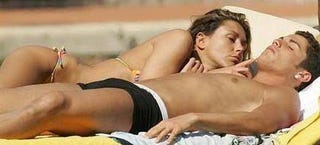 David Hirshey writes regularly for Deadspin about soccer.
If I weren't so filled with the milk — ok, beer — of human kindness, I would loathe Cristiano Ronaldo almost as much as I hate Tom Brady. Here's a guy who after sustaining a small gash on his left eyebrow — oh, the poor baby! — in a Champions League game last year said, "I don't like to look like this, but in four or five days I will be beautiful once again." Here's a guy who in the first sentence of his new book proclaims, "My name is Cristiano Ronaldo ... and I know this name means a lot to those who love football." Yeah, it also means a lot to those who love hair-gel, half-naked Vogue layouts, winking at refs and diving more than Jacques Cousteau.
Is it some sort of cosmic joke that a player who literally prances down the field, albeit fast, can haunt my dreams of Arsenal winning the Prem this season? I mean, it was bad enough that I was busted by Pauline, the longtime Irish bartender/den mother at Kinsale, for brandishing the new Penthouse as soon as I walked in.