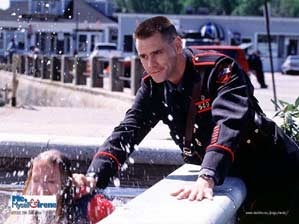 The NHL Closer is written by Greg Wyshynski, of The FanHouse and The Fourth Period. He is also the author of Glow Pucks And 10-Cent Beer.
Friends of Dean McAmmond. Before we get to this week's Brewmeister Ratings, a word about yesterday's fizzle of a showdown between injury-plagued Ottawa and Philadelphia. It was the first time Steve Downie was to face the Senators following his 20-game suspension for launching himself like a missile at Dean McAmmond in a game last September. The Canadian media wanted blood; instead, they were treated to a 6-1 Orange and Black ass-whupping that had some Sens fans reaching for alcoholic pudding, while tough guy Brian McGrattan went from swearing revenge on Downie to injuring himself in a first-period fight with Riley Cote (video). But the Flyers, 10-1-1 in their last 12 games, should consider themselves lucky: Although McAmmond played over 17 minutes, his furious, unstoppable alter ego "Hank" did not see any ice time — and Dean believes "Hank" is a much better player than he is.
"Hank" falls somewhere between the bat-shit crazy of Donte Stallworth's alien friend "Nicco" and the innocent whimsy of Clinton Portis's "Southeast Jerome." It was the name given to McAmmond's quick-tempered persona by former teammate Marc Savard, based on Jim Carrey's character from the Farrelly Brothers' non-classic "Me, Myself and Irene." (No word if McAmmond has raised any obese, Mensa-smart black triplets.) "Hank" first appeared in 1993 when McAmmond mouthed off to a minor league coach. As he explained to columnist Don Brennan, "Hank" is a better player than "Dean," but "Dean" can control "Hank" with a magic elixir called "apple juice." He claims his wife likes "Dean" better than "Hank," which I don't believe for a second because "Hank" sounds like a much better lay, outside of the McIntosh breath.