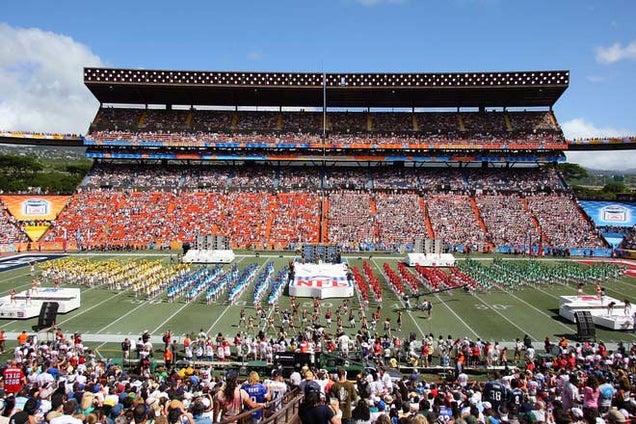 S

The sports world has no greater spectacle than the Pro Bowl. Therefore, we dispatched Zach Everson to write about the Pro Bowl for us. He's out in Hawaii. Jerk. Here's his final dispatch.
Having witnessed the depressing display of humanity that was Kick-off and Fan Fest, Friday I addressed my melancholia in a manner befitting what I learned in college.
I went on a bender (albeit a tropical bender).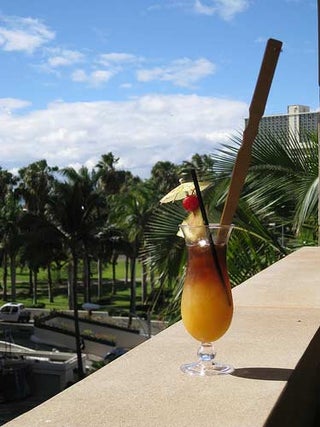 S
Beverages consumed Friday night:
tropical itch, 1 glass
Blue Hawaii, 1 glass
Hawiian iced tea,1 glass
Italian wine, 1/2 bottle
grappa, 1 shot
prosecco, 1/2 bottle
beer (variety unknown), 2 pints
I think the only type of alcohol I missed was vermouth.
Pro Bowl Ohana Day Celebration
This event, a practice open to the public, began at 9 a.m. Saturday morning.
I didn't make it.
At first I felt bad for missing the practice, but then realized that I felt bad because of the hangover. A dereliction of duty perhaps, but I missed the hotel's complimentary breakfast too. (Want to guess which one bothered me more?)
Plus as the players treat the Pro Bowl like a practice, I didn't want to see how they regarded a practice for a practice.
Pro Bowl All-Star Block Party
If "The Pro Bowl Football Festival was like a carnival only with no rides, fewer games, and the carneys aren't workers, but rather are the attendees," then the All-Star Block Party was like the Festival but without any games or players signing autographs (this paragraph courtesy of the Sports Guy school of quoiting yourself).
The block party was held on a one-mile cordoned-off stretch of Kalakaua Avenue in Waikiki. There were six stages, featuring mostly local bands (the music scene here is great) as well as the mascots and cheerleaders that have been ubiquitous all week. Unfortunately the music was sparse but the schtick was not.
At the first stage, two local radio guys — the block party didn't merit real sportscasters — were interviewing Warren Moon. One broadcaster asked Moon if he ever said anything stupid in the huddle to loosen up his teammates. Moon said he didn't pride himself on saying stupid things, but sometimes he'd point out if the "center has sweat between his legs." He then said he didn't want to get into details, demonstrating the restraint you'd expect from someone who was arrested for DUI twice last year.
Other highlights included:
the celebrity look-a-like contest, won by a guy claiming to resemble Jamie Foxx (when the announcer said he didn't have a body like Foxx's, the contestant started to strip)
a couple wearing $75 Tom Brady Pro Bowl jerseys, despite Tom Brady not playing in the Pro Bowl
dozens of people who had shelled out for airfare to Hawaii, accommodations and ostensibly a ticket, jumping and screaming in hopes of scoring a free $15 t-shirt

Bored, I sat on a pier at the far end of the block and watched this couple have doobers in the Pacific as the nearest band played "I'm Easy."

S

As I made my way back down the street, the stage with the celebrity look-a-like contest was now hosting a kiddie dance competition, which allowed parents to pimp out their children like they were Chelsea Clinton.

One of the three contestants, however, just stood in shock, looking like he wanted to bawl.
MC: "Are you ok?"
Cute kid (shaking his head violently): "No."

S

As the kid was led off stage to someone we all hope was one of his parents, I realized he had the right idea and decided I'd had enough too.

But before I could escape, I had to pass the stage with the two radio guys. They were giving away a ticket to someone who could answer a trivia question. They'd identified the contestant, but before asking the question, they had to do some screening.

Radio guy: "Gonna go to the game?"
Contestant: "Yes."
Radio guy: "You promise?"

After they gave the winner his ticket, the duo started interviewing cheerleaders, using the hard-hitting interrogation style they learned from Larry King. Under the bright lights of the stage, all of the cheerleaders admitted to being happy to be in Hawaii.

Disgusted at Americans' willingness to stand in front of a stage, regardless of what, if anything, is happening on it, I spent the rest of the evening watching karaoke.

Tailgate

As the NFL had disappointed every time I entrusted it with providing fun, I skipped the Official Pro Bowl Tailgate and partook in some nonofficial fun.

Like Tony Siragusa, in shorts, joining a Navy band for "Play that Funky Music."

S

And watching a staged piece for a local news broadcast. The reporter approached me and asked, "Do you want to say 'boo'?" Unclear as to what I was being asked to jeer (the Pro Bowl? France? Crappy journalism practices?), I opted not to participate.

S

Apparently number seven, however, was bullshit. (Turned out they were booing the possibility of the NFL moving the Pro Bowl from Honolulu after next year. Clearly none of these people were locals.)

Before heading into Aloha Stadium, I checked out the prices scalpers were asking for tickets. Face value. They didn't seem to be getting it, so I assume that by kickoff tickets could be had for below cost. Supply meet demand.

The Pro Bowl

As we entered the stadium, my friend and I made a $5 bet on the game (I took the AFC and gave him 4.5). I never gamble, but I figured we'd need to do something to make this game interesting.

I wasn't alone. While sitting at a picnic table the guy next to me called his bookie. He bet on the outcome, but apparently that wager wasn't sufficient to make the game hold his attention, so he put money on the score at halftime too. And he walked away inquiring with his bookie about other gambling options for the game.

My friend and I settled into seats that weren't ours and prepared for 60 minutes of watching the best football players in the AFC under the control of Norv Turner. Press reports claimed that the game was sold out. Maybe so, but the stadium wasn't at capacity either.

Surprisingly, for the first time all week the NFL put out a product that was somewhat engaging once the game started. Would I have enjoyed the game on TV? No. But Peyton Manning was zipping the ball around, TO was getting booed for drops, and the abundance of gimmick plays meant you never knew what could happen. It was cool to watch it live.

But the Pro Bowl, of course, is about more than football. It's about boobs.

S

And it's about the media taking pictures of boobs.

S

And it's about weathered guys with Ziploc bags full of Jello shots.

S

And it's about old friends renewing acquaintances.

S

The Pro Bowl is also a great place to dry out, as beers cost $8 or $9.

But back to the game. The second half was less interesting than the first. I got tired and contemplated stretching out across a row of seats and taking a nap. Apparently Derek Anderson was sleepy too, he looked horrible.

Overall the play was lazier in the second half. On one kickoff return, two opposing players about to collide pulled up and stood there looking at each other as if they'd reached a mutual agreement not to touch.

Anyway, the NFC pulled ahead with TO coming around, Adrian Peterson shredding the AFC's defense and three Sean Taylors confusing the crap out of everybody. (Does the NFC's victory mean Taylor is back paying attention to football after skipping the Redskins' first round playoff loss to Seattle?) The game ended when the NFC snapped a string of four Derek Anderson passes that should've been intercepted by finally picking one off.

I've been in Hawaii for a month now. Of all the activities available on a beautiful Sunday, attending the Pro Bowl ranks towards the bottom of the list. And the Pro Bowl-related events rank, actually, they don't. Thankfully I have another three weeks here to purge myself — and maybe have more fun with some dolphins.

S