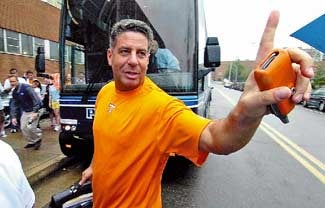 The College Basketball Closer is written by the gang at Storming the Floor.
Any of you who run your own blog know the joy of "search terms." While comments tell you what your regular readers think about your content, search terms show you what freaky, random internet strangers might find valuable in your accumulated pages of pseudo-journalism.
At STF, we get a ton of searches for the likes of "Bill Walker peeing," "Dan Dakich bald spot" and "Lute Olson sexy." Then there's the lonely soul who wandered in looking for late-80s Oklahoma guard Dave Sieger. But we also get a surprisingly steady flow of anonymous queries about Tennessee's Bruce Pearl. We're glad that hoops nation is turning to us to answer the tough questions, but the reach of our little site is not enough to truly solve these riddles. So, without further ado, let's use this here bully pulpit to battle some ignorance.
Search term: Bruce Pearl black or white? According to JewishSports.com, Bruce Pearl is a member of the tribe, having grown up in a reformed Orthodox home. So, the correct PC code word to use here is "swarthy." It covers all of your bases.
Bruce Pearl ladies man: Answer=hell yes. We've seen photos of an oiled-up Pearl gripping a young lady half his age on a boat somewhere. Then he unveiled his "drape 'em" move on Erin Andrews on live television over the past weekend. Women want him, and men want to be him.