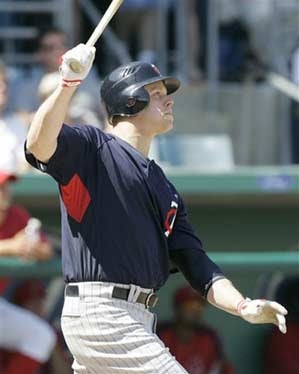 For the third consecutive season, we are proud to introduce the Deadspin Baseball Season Previews. Yes, baseball is awfully close now; it's spring training, after all.
Every weekday until the start of the season, a different writer will preview his/her team. We asked a gaggle of writers, from the Web, from print, from books, to tell us, in as many or as little words as they need, Where Their Team Stands. This is not meant to be factual, or dispassionate, or even logical: We just asked them to riff on why they love their team so much, or what their team means to them, or whatever.
Today: The Minnesota Twins. Your author is Aaron Gleeman.
Aaron Gleeman is a Senior Editor at Rotoworld.com, appears regularly on NBCSports.com's "Fantasy Fix" show and has been blogging about the Twins at AaronGleeman.com since 2002. His words are after the jump.
—————————————
In 2006 the Twins used an amazing second-half run to claim their fourth division title in five years, winning more than 95 games for the first time since Harmon Killebrew, Tony Oliva, Rod Carew, Jim Perry, Jim Kaat, and a 19-year-old, pre-"I just fucked it up" Bert Blyleven went 98-64 in 1970. Unfortunately, the 2006 Twins also followed in the 1970 version's footsteps by getting swept out of the playoffs and collapsing the next season.