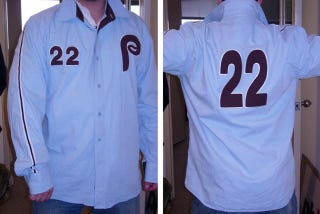 For the third consecutive season, we are proud to introduce the Deadspin Baseball Season Previews. Yes, baseball is awfully close now; it's spring training, after all.
Every weekday until the start of the season, a different writer will preview his/her team. We asked a gaggle of writers, from the Web, from print, from books, to tell us, in as many or as little words as they need, Where Their Team Stands. This is not meant to be factual, or dispassionate, or even logical: We just asked them to riff on why they love their team so much, or what their team means to them, or whatever.
Today: The Philadelphia Phillies. Your author is A.J. Daulerio and ... Bill Conlin.
A.J. Daulerio will be the senior writer at Deadspin starting March 31. Bill Conlin covers the Phillies for the Philadelphia Daily News. Their words are after the jump.
For Christmas this year, I received that shirt you see in the right hand corner. It was a gift from my well-intentioned fiancée, who decided that she'd invest in something sports-oriented. It is a thoughtful gift, isn't it? It is very well-made and its colors suggest the Phillies baby blues of the 70's, replete with red and white racing stripes on the arms. And the number: 22. Why, that's the number worn by Jay Loviglio in 1980. Then it was Bobby Dernier's number for a while. Now? It's mine. I'm sure my first reaction when I unwrapped the shirt was the way a parent reacts when their toddler gives them heartfelt, but completely useless presents like a shoe box full of grass or a broach made of bowtie pasta. My second reaction was pure bewilderment — when had I expressed my desire to start dressing like Jermaine Dupri?

Look, I'm a Phillies fan, but I've never been much of personalized jersey guy (except in unique circumstances, of course). It's always bothered me that Philadelphia sports fans have this odd tendency to buy team jerseys, then put their own surnames on the back. You can get away with this if you're a famous singer or a politician, but not a Jewish mortgage broker from Bryn Mawr. (Honestly, you're not helping the cause if you take the Taxi Crab to Broad and Pattison then show up sporting a Flyers jersey with the "Schwartzenstein" on the back.)

And this isn't even a jersey. It's a button-down shirt that looks like a jersey. This is just awful.