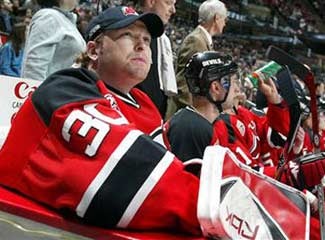 The NHL Closer is written by Greg Wyshynski, of FanHouse and The Fourth Period. He is also the author of Glow Pucks And 10-Cent Beer.
"I feel sad, when you're sad ... I feel glad, when you're glad ... If you only knew, what I'm going through ... I just can't smile without..." Oh, sorry — you see, along with being your humble hockey Closer, I'm also a hockey fan. One whose favorite team is now 0-7 against the Rangers this season, and is in such a late-season collapse they might as well play the rest of their home games at Shea Stadium. Ah well, sunshine and rain: At least Ovechkin's alive and the Leafs are finally dead. Have another donut, Marty...
All right, that was a little harsh. It's not your fault, Chubs, because we both know the Devils aren't even in the conversation this year if you didn't save their bacon at every turn. And the game-winning goal in last night's 3-2 loss at MSG was a fluke by Nigel Dawes of the Rangers: Chris Drury's pass attempt was kicked out by Brodeur as Dawes was taken down in front of him; the puck went off of Dawes's shoulder and rebounded back over the goal line, moments before Dawes himself crashed into the net. (Dawes has scored four of the Rangers' 14 goals against Marty this year, which is just nuts.)
Again, it was the kind of goal a team surrenders when its season is swirling around the porcelain like last night's Taco Bell. I raised the New York Mets/regular season collapse concept about the Devils earlier; the analogy isn't perfect, because the Devils were never the paper champions the Mets were, but this palpable sense of a rapidly decomposing season is a shared experience. And this Devils team's offense — coming to the back of a milk carton near you — is reminiscent of the most frustrating kind of losing baseball team: The ones who you watch strand on a runner on second base with one out in the sixth inning, and you're absolutely certain that'll be their last best chance to put a run on the scoreboard for the rest of the night.
So, in summary: My fan-hatred of the Rangers is now at postseason levels, the Devils third-best offensive option is their third-line checking center and they're five points away from missing the playoffs. Weeeee, hockey!



The Battle for the Bottom. Capitals fans: Don't forget to include Karri Ramo on your holiday card list this year. The Tampa Bay goalie's sleepy reaction to Alexander Semin's rocket shot from the face-off allowed Washington to tie the game. (Tampa was rather jobbed on the icing call to set it up, sending Tortorella into angry Fonzie mode.) In overtime, Ramo flopped around like a salmon on a pile of lingonberries (yea, Finland!) looking for a loose puck, allowing Tomas Fleischmann to score into an empty net for a 4-3 Capitals victory. Ovechkin loved this win...almost as much as how his girlfriend smells.