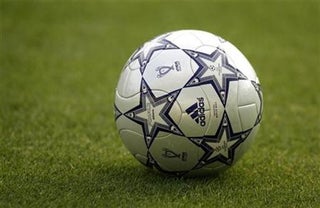 S
England's the country with the silent "u" in a lot of words, like colour and parlour, right? Yet both Brits and Yanks spell it "Final Four." And what's the deal with Ovaltine? Britain's FA Cup is down to four (finally!), starting the semifinal madness with West Bromfield Albion and Portsmouth. Neither of them were a 1-seed, which in England is called a 1-dilly. (Maybe.)
Knowledgeable eyes will be on West Brom striker and this year's Championship League POY Kevin Phillips, who's been this far in the FA Cup twice before (1998, 2007). Untrained eyes will be fixated on the corporate logos emblazoned on the jerseys and think, "Hey! This isn't NASCAR!"
The other semifinal is Barnsley and Cardiff City. (It's tomorrow morning, but what are the odds I'll remember it then?) Neither of these teams have winning records in the Championship League, and yet, here they are, one game away from the Shiny Trophy match.
For those who aren't into all that "trophy winning" business, the morning also brings us Arsenal and Liverpool. The Gunners still have a chance to win the title, despite ties in their last three games. But they are a single point behind second-place Chelsea, and if Chelsea loses to Man City, Arsenal can move up a dilly in the standings.
Premier League
7:45 a.m. ET: Arsenal-Liverpool
10 a.m.: Aston Villa-Bolton
10 a.m.: Blackburn-Tottenham
10 a.m.: Fulham-Sunderland
10 a.m.: Newcastle-Reading
10 a.m.: Wigan-Birmingham
10 a.m.: Man City-Chelsea
FA Cup
7:15 a.m.: West Brom-Portsmouth