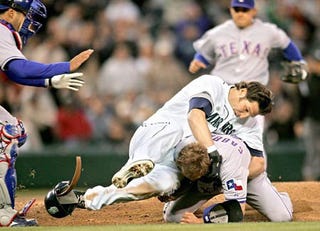 It's not really a classic baseball brawl until a tubby Don Zimmer is thrown to the turf, but this'll do. It happened on Thursday at Safeco Field: After the Rangers' Kason Gabbard tossed a fourth-inning delivery at the Mariners' Richie Sexson at face level, Sexson charged the mound and clocked Gabbard with his batting helmet. Benches emptied, and a pileup occurred near the mound. Then, as you've seen countless times in Zorro movies, Sexson crawled out from underneath the pile as everyone else continued fighting above. Here's the video.
Of course all of this didn't stop the Mariners' scoreless streak from reaching 22 innings in a 5-0 loss. Texas used five pitchers in the shutout, and Ramon Vazquez had four hits, including a run-scoring double. Seattle starter Felix Hernandez had hit both Gerald Laird and Ian Kinsler with pitches earlier in the game.
I'll tell you though, in my opinion Sexson deserves to get brushed back, and here's why. There's nothing lower than someone who taunts fans with the old ball-on-a-string trick.
• Another Webb Gem. It's nice for Diamondbacks fielders to get an extra day off once a week. Brandon Webb is becoming completely monotonous and predictable, now 8-0 after eight starts. His first complete game of the season was an 8-3 win over the Phillies. He hit one batter, Eric Bruntlett, who was not aware that Thursday was Charge the Mound Day, and simply walked to first base.
• It Just Doesn't Matter! It Just Doesn't Matter! Jason Giambi, Johnny Damon, Robinson Cano and Wilson Betemit all hit home runs as the Yankees beat the Indians 6-3. Yet the guys at Camp Mohawk still get all the women.