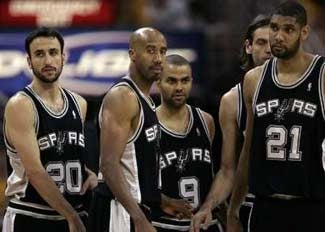 Basketbawful is here to share his thoughts and insights about tonight's climactic Game 7. So come and let us reason together. Or something.
San Antonio versus New Orleans: Game 7
David West. And here's the big question: What's the status of West's back? In case you joined this party late and have been, I don't know, living under a rock, Cheap Shot Rob put the business to West's already injured back in Game 6. The Hornets need him — and desperately — if they're going to win Game 7. And word on the street is that West's meaty flank is "right at 100 percent" with "most of the soreness out of there." Said West: "My biggest thing is just to go out and not think about it. I'm just going to go out there and play, try to help this team advance."